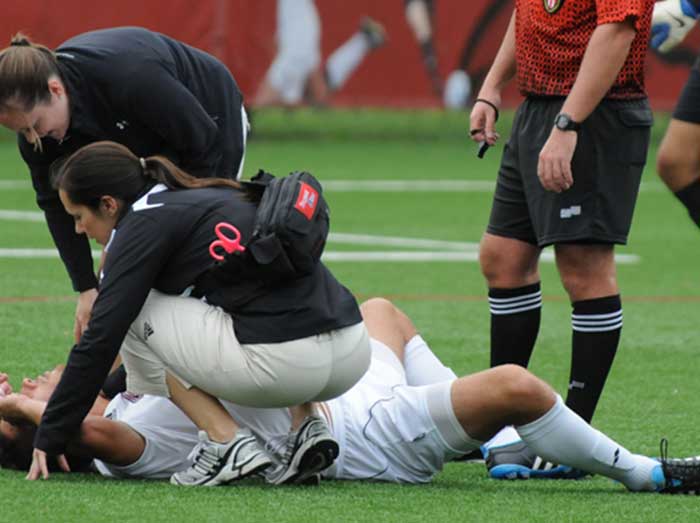 MISSION
The mission of the Sports Medicine Advisory Committee is to ensure that all athletes from NMAA member schools are provided with sound and consistent medical expertise to enhance the safety of their athletic experience.
PURPOSE
The purpose of the Sports Medicine Advisory Committee is to review proposals and make recommendations to the NMAA's governing body on all issues related to the health, wellness and injury reduction of member schools' student-athletes.
OBJECTIVES
Gather current data on health and safety related issues
Educate, interpret, monitor and disseminate materials to students, coaches and administrators concerning medical issues related to sport.
Assist the NMAA in researching sports medical issues and/or concerns.
Assist in the development of guidelines related to sports medicine, in an effort to assist NMAA member schools with making informed decisions.
Provide effective communication between professional organizations before rule changes (bylaws) are voted on.
Proactively address new health and safety concerns.
Develop a network of medical professionals dedicated to providing member schools with appropriate sports medical education and care.
COMPOSITION
The committee will be composed of medical personnel, educators and administrators from both the education and medical professions.
DIRECTORY
NMAA Sports Medicine Advisory Committee
HEALTH AND WELLNESS
COVID-19
Heat Illness
Skin Conditions
Severe Weather
CONCUSSION MANAGEMENT
SUDDEN CARDIAC ARREST
NMAA PREPARTICIPATION FORMS
WRESTLING WMP
ATHLETIC TRAINING CHALLENGE
ADDITIONAL NFHS POSITION STATEMENTS
RESOURCES FOR ATHLETIC TRAINERS/MEDICAL PERSONNEL
IMPORTANT WEBSITES