ABOUT DRAMA / ONE-ACT PLAY
Drama/One-Act Production is an organization with the intent of nurturing the appreciation of theater arts by encouraging its participants to take on roles of actors, designers, stagehands, and audience members of one-act plays.
This organization is a benefit to its participants in developing academic, communication and social skills, also teaching how to use constructive criticism while promoting good sportsmanship. All member schools are eligible to participate in the NMAA State High School One-Act Production Competition, which is held concurrently with the High Desert Theater Festival. The 2019 competition will be held November 1-2, 2019 (Sparta) in Albuquerque, November 22-23, 2019 (Athens) in Rio Rancho and January 16-18, 2020 (One-Act Finals) in Rio Rancho. One Act Registration deadline is October 11th.

IMPORTANT DOCUMENTS
NMAA One Act Production Competition
Sparta One Act Play – Teams Advancing to the Finals
Albququerque Academy
Los Alamos
Mandela International
Athens One Act Play – Teams Advancing to the Finals
Cibola
Piedra Vista
Rio Rancho
NMAA CONTACT
Christopher Gonzales
New Mexico Educational Theatre Association – Chapter Director
505-226-2916
info@nmstf.org
Tammy Richards (NMAA)
505.923.3278 (office)
505.923.3114 (fax)
tammy@nmact.org
2018 STATE COMPETITION RESULTS
Athens Division
| RESULT | PARTICIPANT |
| --- | --- |
| 1 | Centennial High School |
| 2 | Rio Rancho High School |
| 3 | Mayfield High School |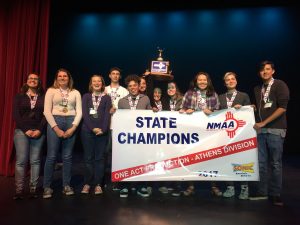 Sparta Division
| RESULT | PARTICIPANT |
| --- | --- |
| 1 | Corrales International School |
| 2 | Los Alamos High School |
| 3 | Mandela International School |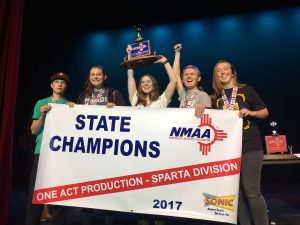 2017 STATE COMPETITION RESULTS
Athens Division
| RESULT | PARTICIPANT |
| --- | --- |
| 1 | Sandia High School |
| 2 | Capital High School |
| 3 | Cibola High School |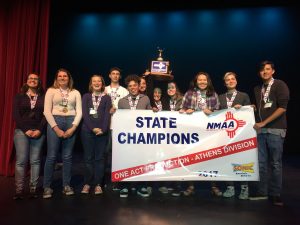 Sparta Division
| RESULT | PARTICIPANT |
| --- | --- |
| 1 | Moreno Valley High School |
| 2 | Bosque School |
| 3 | Hope Christian High School |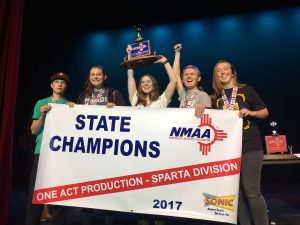 2016 STATE COMPETITION RESULTS
Athens Division
| RESULT | PARTICIPANT |
| --- | --- |
| 1 | Rio Rancho High School |
| 2 | Mayfield High School |
| 3 | Aztec High School |
Sparta Division
| RESULT | PARTICIPANT |
| --- | --- |
| 1 | Los Alamos High School |
| 2 | Corrales International |
| 3 | Hope Christian School |