GET TO KNOW THE COACHES: ROBIN MARTINEZ, ST. MICHAEL'S HIGH SCHOOL
Robin Martinez is the golf coach at St. Michael's High School.  She is a Santa Fe native who graduated from Santa Fe High School in 1979.  "One of the few of us that are still here," she joked.  Hard work has always been a part of her DNA. "I took all kinds of business classes in high school and even continued in college here in Santa Fe and started working as a sophomore in high school at accounting and law firms."  Robin has always played some form of sports recreationally, but decided to take up golf when she met her husband.  "I fell in love with it," she said.  In 2001, a coaching position became available and she discovered coaching the game is also something she enjoys doing.  In addition to working for New Mexico counties as a claims manager for the liability pool, Robin has led St. Michael's to golf championships in 2004, 2005, 2006, 2017 and 2018.
Get to know a little more about St. Michael's Golf Coach Robin Martinez.
What sports did you participate in high school?
I didn't. I was kind of like a tomboy and just played in the neighborhood, baseball, running. I didn't participate actively in high school.
What's your favorite moment as a coach?
I do have five state championships, those are definitely highlights. But what's really satisfying is teaching the girls the sport and watching them evolve and take on and execute shots and see the thrill they get from learning the sport. It's the satisfaction of watching them. Also, the bond you achieve with the girls. Kids are fresh and fast moving and bring a different perspective in life. It's a ray of sunshine to be around them.
What teacher or coach had the most influence on you?
Probably Mrs. Romero, she was a business teacher who taught shorthand and typing and got me to the career path I went on.
What was your favorite subject in school?
All the business courses, I liked those. I didn't care for math. I liked English. For the most part, I liked school.
What tv shows do you watch on a regular basis?
The Voice, 9-1-1, I like police and investigative shows like SVU. Sometimes comedy, whatever can lighten things up. My job is demanding and can be stressful and depressing, so you need things to lighten up the day.
Do you have a favorite round of golf you've played?
My lowest round is a 72 or 73, a number of years ago. This year, it's a 79. I can still play fairly well, haven't had a hole in one, but I've come close. It feels good to hit a well-executed shot.
If you could play a golf course anywhere, which course would you choose?
Probably Pebble Beach, I've never played there.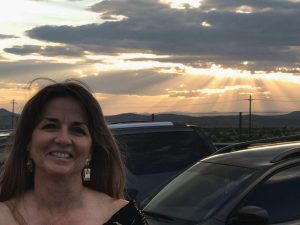 If I give you the power to put any movie on tv you want to watch, what movie would it be?
The Count of Monte Cristo, I've probably seen it three or four times.
What's your favorite candy?
Dark chocolate covered almonds
If I called up the music on your iPod, what artist would I see the most songs from?
My I pod is not really active, but probably the 70's generation, Queen, the Eagles, but I like some of the current stuff, Bruno Mars, and some Post Malone.
If you could only have one food for the rest of your life, what would it be?
I could survive on Frito Pies.
What is your life motto?
There's definitely several. The bottom line is 'Work hard and enjoy what you're doing'. I tell the girls to have fun playing golf. Sometimes they're out there golfing and have high expectations of yourself and your game and easily get down if you have a bad shot. I remind them, 'You're out on a golf course, you're out of school, it's a beautiful day, you have no worries right now.' I try to keep them focused and the payoff will come with the hard work.