TOP 100 RECRUIT CRAWFORD COMMITS AND OTHER SIGNING NEWS
One of the top-rated basketball recruits in the state of New Mexico this year made her college choice. Highland High School's Cailee Crawford announced her commitment to play basketball at San Diego State University.
"I chose San Diego State because the coaching staff had been recruiting me since the 8th grade and made me feel comfortable committing," Crawford said.  "Originally, I planned to commit right before my senior year started, by August, but plans changed.  It's a huge weight lifted off my shoulders and great knowing I'll be able to play my senior season without the pressure of wondering where I'm going to college."
Crawford averaged over 18 points a game her junior year.  The senior-to-be is rated among the top 100 prospects in the country by ESPN's rankings. "That ranking was amazing and flattering," she said. "But I'm not quite satisfied because I can continue to work and get higher on that list. It shows a lot of my hard work is paying off."
Crawford chose the Aztecs over Rutgers and was recruited by several Division I schools including New Mexico, New Mexico State, Colorado State and Oklahoma State among others.  The 6-foot post player hopes to improve her game even more in the off-season.  "I want to get stronger," she said.  "I want to be one of the best defensive players in the state this season."
SIGN HERE, PLEASE
In other college commitment news, Brandon Mason of Clovis High School signed a national letter of intent to compete in track and field at Southwest Minnesota State University.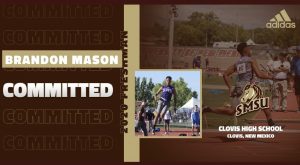 *image courtesy Twitter/SMSU
Kaylee Stowell of Farmington High School will continue her softball career at Mesa Community College in Arizona.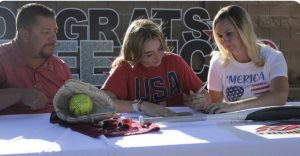 *photo courtesy Farmington Daily Times