MORE SIGNINGS AND COMMITMENTS FROM HIGH SCHOOL STUDENT ATHLETES
Here's a look at some of the recent signings and college commitments from high school student athletes around New Mexico.
The St. Pius X High School Athletic Department held a virtual signing day ceremony Wednesday night for their 10 seniors who will compete at the next level.  They include:
Mason Ashcraft, baseball, University of New Mexico
Brody Cast, rugby, Central Washington University
Adrienne Dexel, swimming, University of Saint Mary (KS)
Delaney Fenton, volleyball, Ohio Northern
Hannah Irons, soccer, Lubbock Christian
Ethan Johnson, soccer, University of Dallas
Mia Kroeter, music and marching band, Benedictine College
Cameron Martinez, beach and indoor volleyball, MiraCosta College
Ryan Schwaner, golf, Regis University
Hayden Walker, baseball, Pepperdine University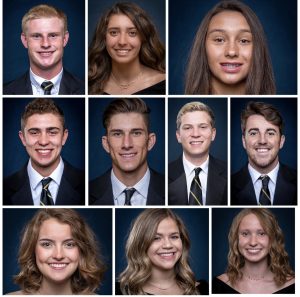 photo courtesy St. Pius X
Los Alamos High School senior Ian Jaegers signed a National Letter of Intent to swim at Valparaiso University in Indiana.  According to Dave Vasquez of the Los Alamos Monitor, Jaegers holds the school record in the 100yd backstroke.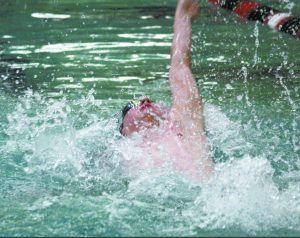 photo courtesy Los Alamos Monitor
Eldorado High School senior Joey Burke announced on Twitter that he will be continuing his academic and athletic career at Benedictine College.  Burke is 1st Team All-District defensive lineman for the Eagles.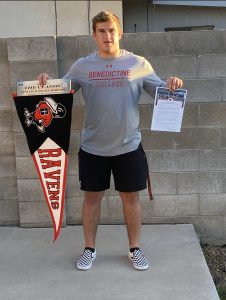 Sandia Prep senior Sevilla Duran announced she will attend Columbia University to compete in Track and Field.  Duran is a three-time state champion in the hurdles.  She won the 300m hurdles event in 2018 and 2019.  She won the 100m hurdles two years ago.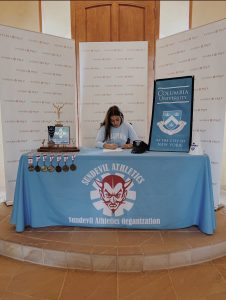 Navajo Prep senior Lance Morris announced he will play basketball at Arizona Christian.
Volcano Vista's Dion Battle announced he will play basketball at Northwestern Colorado.
Coaching news:
Aztec High School announced Ryan Dee as their new boys basketball coach.  Dee spent the last six seasons as the Tse'Bit'Ai Middle School basketball coach.  Dee replaces Matthew Steinfeldt.