ATTEMPT AT FOUR GONE, BUT SANTA FE PREP'S HAYDEN COLFAX ISN'T DONE YET
Hayden Colfax, Senior
Santa Fe Prep
State Championships: Girls 100m Hurdles Race Results
2017    1st
2018    1st
2019    1st
2020    DNP
There won't be a four-peat for Santa Fe Prep senior Hayden Colfax, one of the top track and field performers in the state.  "Going for a 4-peat, that was the goal," she said.
Colfax already has plenty of medals to her name.  In 2019, she won the 100m hurdles event at state for the third year in a row.  Last spring, she also won the 100m race, the high jump and triple jump.  Colfax was the 2019 State Track and Field Championship Girls 3A high-point athlete that weekend.  She scored 29.5 individual points, almost 70% of her team's 43 total points (Santa Fe Prep finished 3rd in the team standings).  That weekend, Colfax also reached a state record mark in the triple jump (37'10.75").  Her sophomore season was spectacular, as well.  She won the 100m hurdles and finished first in the triple jump, along with a fourth-place finish in the high jump.
The 2020 season picked up right where Colfax left off last year.  "We had one small meet in Jemez Valley earlier this year," she said. "I was the high point performer and qualified some events for state. It was just a starting point."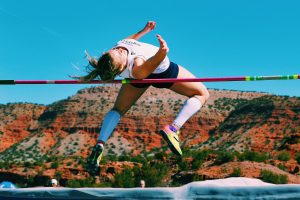 Unfortunately, the high school track season ended as quickly as it started.  Now, her high school resume is finished.  Colfax, with all the other high school student athletes in New Mexico, had her season cut short because of COVID-19.  "I was pretty disappointed," she said. "You spent so much time training and now it's for nothing."
"It's definitely hard," Hayden added. "I have those state records, I have school records that I was close to getting. Knowing I can run in college and leave my mark there makes it a little easier."
Her high school career may be over, but the athletic story to her journey still has a few more chapters.  Colfax has plans to attend Williams College in Massachusetts and run for their track team (hurdles, triple jump and high jump, "maybe the heptathlon, not immediately, but at some point").  "Williams is a small liberal arts college with D3 sports," she said.  "Academics come first and I want that liberal arts education. It's the right place for me."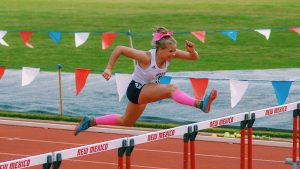 A lot of her time the past couple weeks has been spent at home on the treadmill and stationary bike.  "I'm assuming there won't be summer club meets, so I'll just work out on my own and head to college in the best way possible," she said.
Colfax says she first got into track around the fifth grade.  "We have an athletic family, mountain bike races and triathlons, etc," she said. "I thought 'why not track and field?' I started competing and once I got to high school I was ahead of the curve."
Hayden enjoys the personal competitive nature of the sport. "I like that it's not only skill based, but it's based on how much you are willing to put in, and grit, and how much you're willing to push yourself in the moment."
The drive and success Colfax displayed during her high school career can serve as motivation to push others on the track. Her advice to returning students? "I'd probably say don't let any opportunities go by.  It's easy to say there's always next year, but sometimes there's not."