With Public Golf Courses Open For Business, It's Back to Work for the Defending State Champ
Thursday afternoon New Mexico Governor Michelle Lujan Grisham announced that golf courses in the state could reopen.  Cibola High School golfer Aiden Kraft will be among those returning to the public courses statewide.
"I actually got really excited," said Kraft.  "There's nowhere to practice, it's hard to work on your swing."
It's tough to imagine Kraft has that much to work on. Last spring, Kraft was the Boys 5A State Golf Champion after posting back-to-back rounds of 69 and 71 to finish the two-day tournament at 4-under par.  Kraft was the only golfer with a sub-par round on the first day of the event at The Canyon Club in Albuquerque.  Kraft recalls the moment when he realized he could win.  On the final day of competition, with four holes left to play, Kraft found himself in the bunker on a par 3 hole.  Following his sand shot, he drained a par-saving putt. "I managed to keep a level head," Aiden remembers.  On the next hole, his approach shot went straight over the green.  "I hit a terrible chip, but had a great putt," he described. "That's when I knew I was going to do this. The putter always seems to save me."  Kraft would go on to win his first state title as a freshman, claiming top honors with a three-shot cushion.
His sophomore season, Kraft picked up where he left off.  "I finished first in two events this fall and finished second in two events," he said.  Kraft won't be able to defend his state title this month since all spring sports were cancelled because of the COVID-19 health crisis.
"I was really bummed about that," Aiden said about not being able to compete this spring. "I was sad because I thought our team could get to state. Last year, it was just an individual event for me. Most of my friends on the golf team this year were seniors and now they are leaving. We were really close and worked so hard to get better. I wanted to experience state with them."
Instead, Kraft says he will take this time to work on his mental approach to the game. "That's big for me," he said.  "Even when I'm down, I feel like I can come back. The mental game is one of the biggest parts of golf."
Aiden took up the game of golf at an early age, but didn't start playing year-round until recently.  "I've been playing golf on and off since I was three," he said. "I usually only played two months out of the summer because I also played baseball. I quit baseball 2-and-a-half years ago and started playing golf full-time.  It's pretty natural for me.  Now, I'm just trying to see how good I can get."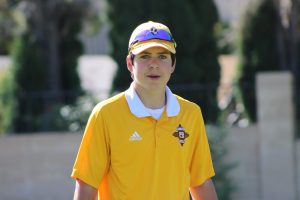 Next year, Kraft is determined to come back even better and he has time on his side.  Kraft turned 16-years old last week.  How did the state champ celebrate this milestone birthday while stuck at home?  "We got Texas Roadhouse and some of my friends drove by," he said.  "It was pretty cool, actually."
Most of the tournaments Aiden was scheduled to play this spring and summer were either cancelled or postponed.  "I wanted to win state again," he said. "I'll have to do that next year."
As for the public golf courses opening up, Kraft says he's most looking forward to playing Paradise Hills Golf Course.  "I love Paradise," he said.  "That's my home course.  I live right next to it and haven't played there in a while.  I actually work there.  In fact, my boss just texted me."
I guess it's back to work for this state champ.