LONGTIME ALAMOGORDO COACH & EDUCATOR PASSED AWAY
Longtime Alamogordo High School athletic director Lawrence Johnson passed away on Tuesday after a long battle with cancer.  Johnson was diagnosed with an aggressive form of large B-cell lymphoma.
Johnson spent 41 years in the Alamogordo Public Schools system as a coach, teacher and administrator. His career started in 1972.  He coached basketball, track and became a guidance school counselor.  In 1998, Johnson became an NIAAA Certified Athletic Administrator.  He also served on the New Mexico Activities Association Commission and Board of Directors. He served as the Alamogordo High School athletic director for 21 years and retired in 2013.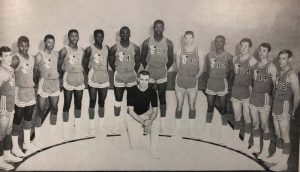 1968 Alamogordo team photo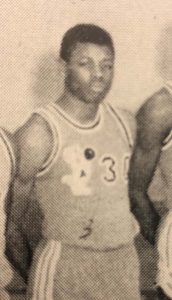 "The NMAA would like to send out our thoughts and prayers to the Johnson family," said New Mexico Activities Association Executive Director Sally Marquez. "It's sad to hear about the loss of a man who served this state in so many ways.  He always had the best interest of the kids in mind with everything he did and was willing to mentor others."
"He was like a father and mentor to me," said Los Lunas Schools Athletic Director Wilson Holland.  "I am deeply saddened.  He was a man that deeply cared about the kids in our neighborhood.  He taught us to make sure we did what was right."
Johnson coached Holland and taught him many lessons both on and off the court.  "I never had money to go to homecoming or prom, but he found a way to make sure we had a suit.  He was always giving.  He built relationships with the students and athletes and he really knew what we needed in our personal and home lives.  In college, he would send me money and make sure I was taking care of my business.  He wanted to make sure we would be successful. He never let us use our color or finances as a reason why we couldn't be successful. All of us have an opportunity to be successful if we work hard.  He was a product of that. He paved the way for a lot of us to fulfill our dreams."
Ernest Viramontes with Las Cruces Public Schools knew Lawrence through many district contests and says Lawrence was very well liked.  "He was such a good guy," said Viramontes.  "He was a true example of a professional, the way he handled himself as an AD and a person. He was a great mentor to me and we are thankful for his educational service to all of us.
He was always willing to help, loyal and supportive to his school.  He was Alamogordo."
Recently retired athletic director Bruce Carver was a friend of Lawrence.  "Lawrence was a great leader, coach, athletic director and friend to many in Alamogordo and throughout New Mexico," said Carver. "Lawrence was involved for so long with the NMAA and nationally with the NIAAA.  I considered him a friend and a mentor, as so many coaches and athletic directors in New Mexico did.  We had a lot of fun together through the years as well as some great battles at Hobbs and Alamogordo. He was always first class.  We will miss him a great deal. Indeed, it's a sad day for athletics in our state."
Longtime coach Pete Shock first met Johnson as a competitor in 1968 and the two became lifelong friends.  "He was a tremendous friend and a tremendous man," said Shock.
Albuquerque Journal writer and Alamogordo High School graduate Geoff Grammer remembers Johnson fondly.  "In every way, he was a part of what made my HS experience, and that of so many others, a positive one," Geoff wrote on social media.
Alamogordo's Jarrett Perry also echoed those sentiments on Twitter.  "One of the greatest men I've ever known. He positively impacted thousands of NM kids. I am blessed to have known him and honored to have sat at HIS seat as AD after he retired. God Bless Mr. Johnson. You will be missed," Perry posted.
Johnson was 69 years old.
Services will be held Monday, October 8th in The Pit at Alamogordo High School (Viewing 11am-1pm, Service 1pm-3pm, Reception will immediately follow service from 3pm-5pm in the AHS cafeteria).