HUSKIES HOPING THIS IS THE YEAR FOR 1ST FOOTBALL TITLE
When you talk about Hope Christian you usually think boys basketball, but not football.  The Hope football team is trying to change that.  Last year the Huskies scored 141 points in their first five games.  This year, they reached that total in four games.  By the end of the season they "hope" to be lifting their first blue trophy.
"It's nice that we've been winning, but we also need to stay humble nd keep ourselves relaxed and don't get big heads and just play like it's 0-0," said senior Vince Quezada.
Their defense has been near perfect. They've given up only three points all year.
"The offense is clicking and scoring points, the defense is stopping 'em from scoring points," said head coach Gary Beck.  "My thing has always been is 'how many points does it take to win a game?'… one.  So it's been working out really well."
"Honestly the defense has been incredible," said linebacker Jared Knowles.  "Teams haven't been able to go anywhere and our line has been giving the quarterback pressure and honestly, defense has been the big surprise this year."
The Huskies only graduated five players last year so this group has been together a long time. They grew even closer spending three days at a preseason camp in Glorieta.
"It was fun and it was hard," described quarterback Nick Henry.  "It wasn't an easy trip, but we did get a lot of team bonding."
"It was an incredible experience being with the guys," said Knowles.  "It was a grind.  We had three practices a day. Go eat, go to practice, and it was incredible."
"You get a good three days of concentrated football," explained Beck.  "Everything is planned around food.  You go to food, then you go to film, then you go to practice, then you go to food, then you go to film and then you go to practice.  And then you go to film, then you go to food, then you go to bed. It worked out great and the guys had a good time."
Hope is number two in this week's poll, behind top ranked Dexter.  The Huskies use it as motivation.
"Being number two, we always want to be on top but you have to work for it," said Knowles.  "The hardest working team wins."
"The kids like to look at the polls and see where you're at, tracking, and I keep telling 'em 'The polls and 5-bucks will get you a frou-frou drink at Starbucks,'" joked Beck.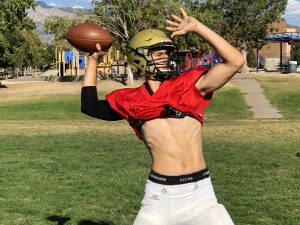 "We've gone undefeated for two games and that's it because we think 'we're all bad' and then the next game we lose," said Henry.  "We just stay humble and stay true to our team and it's been successful so far."
The Huskies are hoping for their first state title this season.