LIONS LOOKING TO ROAR BACK TO POSTSEASON
"The community really rallies after this team," said head coach Mario Trujillo.  "And Friday nights in a small community, that's what it's about is football, and it's been fun to be around."
Mario Trujillo knows a little something about football in Santa Rosa.  He played for the Lions and has been involved in the program for 23 years, the last 9 as head coach.
"I coach kids whose dad's I played with," said Trujillo.  "It's even gotten to the point where I'm coaching some kids whose dad's I've coached.  So, that's been kind of a big deal for me."
"It's amazing to have a coach that's been in our shoes before," said senior Stephen Sanchez.  "He knows the ins and outs of this game and Santa Rosa, just like us."
One constant through the years is their unique single-wing offense.
"I can't describe it because there's so many parts to it," said Sanchez.
"The key is to be on time, have that great timing," explained senior Genaro Zitz.
"Most opponents are deceived by it," added senior Brandon Gutierrez.
And it's been in the playbook for generations.
"It's special, being able to be that spinner back, the fullback has been in my family," said senior fullback Darren Chavez. "My dad did it, my uncle did it, I had a cousin that was a fullback, it's special to be able to run this offense."
"I'm not smart enough to learn anything else," joked coach Trujillo.  "That's all I've known since playing here.  When I played in Santa Rosa in the 80's we ran single wing.  I left and went to school and came back we were still running it."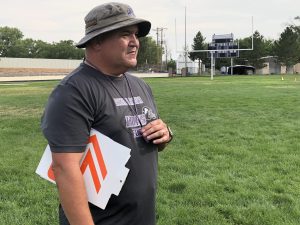 "For us it's the kind of offense that suits our kids.  We're never very big, we're not very strong but we try to put our kids at an advantage because of this offensive style."
"We've been with each other our whole lives, running it ever since recess in elementary," said senior Daniel Esquibel.  "We know how everything goes and just smooth now and hopefully ties into this season."
This year's roster is heavy with seniors who are hoping to get back to the title game for the first time since 2012.
"We've been working hard since we were little kids," said Chavez. "We've been together all seniors, a senior loaded team.  We are hoping it all comes together now that we're seniors."
A visit to the title game would mean a lot to these kids who remember sitting in the stands watching the Lions win their last blue trophy.
"All I remember is a lot of people and a happy time and I hope we can bring that back to this town," said senior lineman Kameron Gauna.
The road to happiness starts this week as the Lions open up against Dexter on Friday.