SUBWAY FEATURED STUDENT: REYES LUDI-HERRERA, BERNALILLO HIGH SCHOOL
Reyes Ludi-Herrera is a three-sport standout at Bernalillo High School, but two is the number he's focused on.  He can relate to the Buffalo Bills of the 1990's.  He knows what it's like to climb up the competitive mountain only to be pushed back by the same opponent…twice!  Herrera helped the Spartans reach the state championship in two sports last season, but unfortunately came up short by the hands of Hope Christian both times.
"You can't let it sit heavy," said Herrera.  "Yeah, we lost in the state championship but we just have to get back."
And that's the driving force for this senior.
Herrera plays football, basketball and baseball for the Spartans.  "It's pretty difficult to balance all three sports and school," said Herrera.
He started his high school career playing soccer, but by his sophomore season the football coach convinced him to come out to the gridiron.
"I'm really close to the football coach and he finally got me to go out," said Herrera.  "I've loved it ever since."
His passion is definitely basketball.  "I've been playing since I was about 4 years old.  I just loved it and kept going.  Coach Terry (Darnell), I've always been around him.  He would open the gym for me."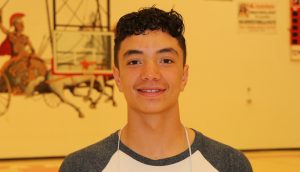 "Ever since I was little I would always watch the Spartans and I always wanted to be a Spartan. Once you come out for game time, there's nothing like it."
Last season Bernalillo started the basketball season winning their first 16 games of the year.  They headed into the state tournament with only one loss behind Herrera's 18 points a game.  The Spartans eliminated Hot Springs in an 83-34 first round pounding. In the quarterfinals, Bernalillo beat St. Michael's 56-39 and did away with Moriarty in the semifinals 61-39.
"When we started and we went on that first winning streak and then we lost to Belen, we were hoping to go undefeated. Then state came and the first few games were pretty good with pretty good opponents and then we played Hope and it was kind of overwhelming when we first got there.  We started flat, that was the biggest thing, and it kind of went downhill from there."
Hope Christian defeated Bernalillo 81-52 in the championship game, but the loss motivated Herrera to get back to work.
"My teammates and me, after we lost, we came into the gym and were probably in there 8 hours a day. We'd go grab some lunch and come back. We'd get in the weight room and come back and shoot some more for about a month and then baseball started."
Baseball proved to be another successful season for the Spartans.  Herrera played middle infield and outfield for the Spartans.  They reached the state tournament as a 6 seed. Bernalillo swept East Mountain in the opening round, taking two games by a combined score of 15-1.  The Spartans beat Robertson 6-2 in the quarterfinals before a semifinal matchup with Silver.
"Our team, we were expecting to get there, but some people weren't expecting us to beat Silver City and we went in and played good ball."  Bernalillo beat Silver 6-4 and reached the championship game in baseball, matching up once again with Hope Christian.  The Huskies handed Bernalillo another championship loss by a score of 3-0.
"We came up short to Hope again which is kind of difficult because two state championship losses to Hope. That just gives us motivation to keep working, hopefully it will be different next year."
"I'm really excited for the group of guys coming up.  I believe we could get back to where we're at last year… in both sports.  It's going to be tough.  We just have to keep working."
Work in the gym or on the field is something Herrera embraces and maybe those two setbacks last season will drive the Spartans to reach #1 at the end of the year.