SENIOR HEAVY ARTESIA SQUAD BACK FOR MORE
Another year, another football season where Artesia starts the new campaign as the defending state champs.
"We're not the biggest team, but we're flying around hitting people, we get stuff done," said senior middle linebacker Colin Flood.
For the second straight year the squad is full of upperclassmen.  38 seniors chose to come back out for the team this year.
"It's really a team full of chemistry," said senior lineman Isaiah Farmer.  "We've been playing with each other for a while now.  We've known each other coming up.  We all know how to play and do well with each other."
"It's a close-knit group of guys and they're excited about the season and so we're excited to see what they can do," said head coach Rex Henderson.
One of the new starters in this group is quarterback Trent Taylor.  He spent the past two years as a backup.
"He's done a good job," Henderson said of his new quarterback.  "He's learned a lot, has developed behind Taylor Null and I'm real excited to have him get his opportunity and see what he can do."
Last December the Bulldogs won the school's 30thstate football championship, but this year's team is different.
"I think last year that group had a little bit of a chip on their shoulder from losing in the title game before, so I think they kind of played with that," said Henderson.  "It kind of gets competitive within the classes in Artesia.  They want to prove that they can do what last year's group did or didn't do, so I think they tend to play with a little more edge than people realize they do."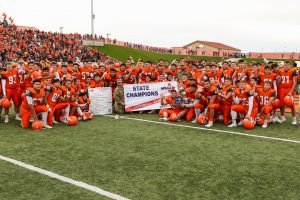 "We put that whole state championship thing behind us, we don't even think about that anymore," said Flood.  "We are focused on this year."
This year starts at home against Eddy county rival Carlsbad.