SUBWAY STUDENT SPOTLIGHT: KANDLE KITCHENS, CARLSBAD HIGH SCHOOL
She has one of the most unique names you've heard and is one of the most impressive students you will meet.  Carlsbad High School's Kandle Kitchens was a shining light of possibilities for her community.
"I love my name," said Kandle.  "My mom didn't want to do anything ordinary and wanted something to stand out.  I don't care that other people can find their name on keychains and stuff at souvenir shops, I stand out with it.  It makes me me."
Kandle made the most of her time in high school.  The recently graduated senior spent the past four years involved in numerous activities in her community, including the New Mexico Business Professionals of America. "This year, I served as NMBPA President and created a service campaign to show support for essential workers and created 'Light Up the Dark' for our New Mexico members to meet virtually each month."
'Light Up The Dark' was one of many tie-ins Kandle used with her unique name.  "For every office position over the years, I tried to tie it back to my name, Kandle," she said.  "Kandle Flames Light, Polarizing Darkness, I used 'Let Kandle Light The Way' my junior year."
In addition to serving through BPA, Kandle was also a member of National Honor Society, as well being very involved in her church's youth group.  At Carlsbad High School, she participated in some theatre, choir, and helped as an assistant in the library.  "I've always loved reading and love books and how you can transport yourself into another world," she said. "I want to spread the joy of that to the younger generation."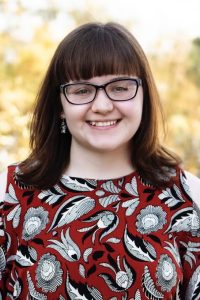 Kandle believes that being a leader means being an example.  "Leaders cannot be hypocritical in their line of work," she posted on a social media campaign. "Whatever I do, I do so accurately and completely, strive to go beyond the goals I already have, and never give up in the face of adversity. Leaders have to be active in several ways. Active listeners, active thinkers, active decision makers, and quick to act in times of adversity. I constantly seek out more ways that I can be active and show that in my leadership."
"As a leader I try to strive to exemplify the values of respect, maturity, kindness, compassion, sensibility, and independence through my daily life," she wrote.  "I also wish to guide others into becoming the confident, honest, visionary innovators of the future."
Kandle says the pandemic this past year affected the lives of everyone.  It gave her even more reason to step up her efforts to try and provide positive opportunities to get involved and provide hope. "One of the mottos that has pushed me throughout the years comes from the Disney movie Meet the Robinsons," she said.  "It's 'Keep Moving Forward'.  I always appreciated it and have taken it and used it throughout my entire life. Whatever gets me down, I plan to keep moving forward."
Kandle will attend Lubbock Christian University in the fall and plans to major in Digital Media Arts and Applications where she is interested in a possible career involving video production or maybe digital design.
She had some advice to the incoming high schoolers.  "Make sure to not take what time you have for granted," said Kandle. "You want to make the most of the opportunities available. Go to activities, go to events, take your memories with you as you move forward."
With the fire inside her to lead, Kandle has a bright future.