MORE SIGNINGS & COMMITMENTS FROM HIGH SCHOOL STUDENT-ATHLETES
Here are some of the latest signings and commitments from high school student-athletes in New Mexico.
Marley Deschiney of Navajo Prep High School signed his letter of intent to play baseball for Western Technical College in La Crosse, Wisconsin.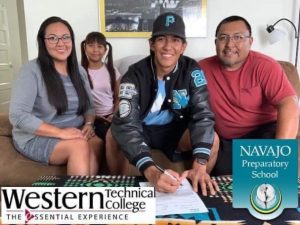 *photo courtesy NDNsports/Twitter
Carlos Dassaro of Santa Fe High School signed a letter of intent to play basketball at Northern New Mexico College.
Luis Villalobos from New Mexico School for the Deaf committed to play basketball at Northern New Mexico College.  The 6'4" wing player led the Roadrunners with over 21 points and 13 rebounds per game.
Sebastian Jimenez from Tatum High School, DeWayne Dawson from Clovis High School, and Riley Hestand of Carlsbad High School will all play basketball for Eastern New Mexico.  Jimenez averaged over 17 points a game last season.  Dawson averaged 14 points a game for the Wildcats. Hestand had a three-year career with the Cavemen.
Sandia's Viane Cumber announced on social media that she is reopening her recruitment process.  Cumber had previously committed to play basketball for Texas Tech.
Former Eldorado High School basketball standout Deraje Agbaosi committed to play for the University of New Orleans.  Agbaosi was going to play at a prep school in Phoenix.