ROSWELL HIGH SCHOOL DANCE TEAM GIVES SUPPORT TO THOSE IN NEED
"Always give without remembering and always receive without forgetting."
-Brian Tracy, self-development author/motivational speaker
Even in these uncertain, pandemic times, a small gesture can go a long way to make a difference.  The Roswell High School Charlie's Angels dance team recently collected canned goods and non-perishable items for the Disaster Relief group/Homeless Coalition in Roswell.
"We wanted to help before going back to school," said Charlie's Angels coach Kim Castro. "The girls do several of these yearly and they know that there are so many families in need of help with school supplies and food."
The Charlie's Angels collected school supplies such as markers, pencils, crayons, paper and notebooks to stuff backpacks for high school and elementary students.  The backpacks were given out by the Disaster Relief Group/Homeless Coalition to those in need.
"The girls know that not everyone is able to start school with a new back pack and the supplies needed," said Castro.
"We all have struggles, but if you can help someone struggle a little less, we should do that," said Roswell High School senior and Charlie's Angels dancer Kayla Quiroz.
In addition to the backpack project, each one of the Angels and Coaches wrote letters and made cards for Bridger Walker, the 6-year old from Wyoming who protected his sister from being attacked by a dog, but was attacked himself. A care package was sent to Bridger and his little 4-year old sister.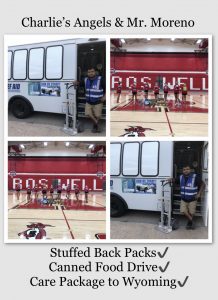 "Coach Silvia Hernandez gave them cardstock and blank cards and explained to them the story about Bridger, and told them to read it on the internet and asked them to write something they felt," said Castro.  "We believe that the girls learn from this and they are always ready and willing to do for others.  We think they learn life lessons from helping others. Silvia has a passion for this and always finds the need and gets us all involved. The girls and coaches enjoy this. It's something that we do as a family!"
Kate McDonald­­­­, a senior and dancer with Charlie's Angels, said "Changing someone else's life positively, changes your life for the better as well."