"WHAT SPORTS HAVE TAUGHT ME" – CROSBY GRIGSBY, CLASS OF 2020
Crosby Grigsby is a recently graduated student-athlete from La Cueva High School.  She is an 11-time varsity letterman who competed in a state competition every year since she was a freshman. Crosby competed in three varsity sports in High School; cross country, golf and track.  She won two back-to-back state championships in golf, and she helped the Bears win back-to-back state championships in track and field, too.
"We had high hopes again this year," she said.  "I was looking forward to adding a few more patches to my letterman jacket."
But COVID-19 changed her plans.
Crosby, like many student-athletes around the state, was a multi-sport competitor who spent a lot of her time training.  "Free time was just a noun, but I loved it that way," she said.  "I loved competing, but more than competing, I loved the grind.  I fell in love with the process."
"When everything was cancelled this year, my heart broke," she described.  "This semester went from all… to nothing."
"The day after the season was cancelled, I woke up and went to the track," she said.  "I ran.  I worked out just as hard as normal.  Not because I was going to have a chance to win another medal or state title, but because I loved it.  It was for me.  Nobody told me I had to show up.  It was then I realized how much sports had truly taught me."
"Sports taught me discipline, hard work, dedication, teamwork, sacrifice, determination, and the ability to persevere through adversity.  These are qualities that will help me in nearly every aspect of my future life."
Crosby says sports has given her the gifts of lasting memories and relationships with others.  There is one race Crosby always likes to reflect on, a state track final in 2018 with teammates Sarah Mann, Lexie Keller and Israel Swanson.  "I always go back to the 4×100 meter relay from my sophomore year," Crosby said.  "We were in lane eight, seeded last.  All of us had the perfect hand offs and we won.  It was unexpected.  It was also my last race with Lexie Keller.  Our time broke the school record and every time I see that race I get chills."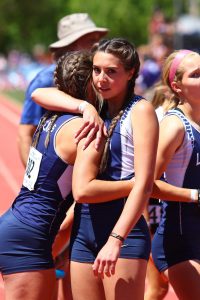 Along with lasting memories and friendships, sports can also teach us life lessons.  "What I have learned is the future can be uncertain.  So, value who and what is important.  Life cannot be defined by how many medals you win, how much money you make, what you wear or drive.  Life is about experiences and relationships, and nobody can take those away.  Although I did not get the chance to compete in my last state track meet or state golf tournament, I am grateful to have made lifelong friendships and made the sweetest of memories.  It's not about what's waiting on the other side, it is truly the climb that you will remember."
"As a New Mexico athlete, we are taught to 'Compete With Class'.  I hope I have not only competed with class, but persevered with class as well.  Why persevere? Because we are athletes and that's what athletes do."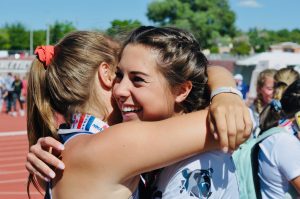 *Crosby will play golf competitively at Saddleback College in Mission Viejo, California.