GET TO KNOW THE COACHES: REYNE MAYNES, COBRE HIGH SCHOOL
Reyne Maynes is the wrestling head coach at Cobre High School.  He was born and raised in Grant County, attended Cobre High School and has been connected to the wrestling program ever since.  Maynes won an individual state wrestling championship at 152 pounds in 1991 and jumped right into coaching after his high school career.  "In the 1991-92 season, my brother was the #1 seed in the state and lost in the state finals 5-3," Reyne recalled.  "I helped coach him as a volunteer coach."  After years of coaching youth wrestling, Maynes jumped back up to assist the high school program in 2012-2013.  "I was involved in my own business and didn't want to take away from the dedication needed to coach at that level," he said.  He took over as head coach at Cobre High School in the 2018-2019 season and led the program to state titles in 2019 and 2020.
Get to know more about Cobre High School wrestling coach Reyne Maynes.

What sports did you participate in high school?
I lettered in football, played varsity since my sophomore year. I was a defensive end and running back. I was also involved in wrestling, as well.
Who first got you into wrestling?
My uncle. Back in the late 70's, my uncle was wrestling for Cobre High School. He was a good athlete. The coach was Sam Tapia, he started the youth wrestling program. I was there from the very beginning. I wrestled my entire life. I wrestled up until my eighth grade year. My freshman year, I got out of it. I didn't participate the full season.
What was your favorite moment as an athlete?
My most glorious moment was becoming a state champion as a senior. I was the first state champion in my family. After that, we have about 18 New Mexico state titles in my family since me. Our oldest son won state titles as a sophomore, 13 years later. My senior year, I took first and our team took second. We have two sons, both are multiple state champions. The younger one has been helping me the last two years. He wrestled at Northern Iowa Community College, and now is offered at Arizona Christian University.
What's your favorite moment as a coach?
I've been coaching since 1992. There have been several instances that have been awesome. One is watching my sons achieve state champion status and winning as a team. My sons are 11 years apart. Being able to be involved in their lives in that aspect has been wonderful. After many years of refusing to move up to head coach, I became the 18th head coach at Cobre High School in the 2018-2019 season. I've been successful winning state titles in both years as head coach. Last year, we won by almost 100 points and took home six state champions. I placed all 14 wrestlers last year. We tied the Cobre school record with six individual state champions. Winning by 98 points is pretty significant. This year, I broke the Cobre High School record with seven state champions and three runner ups, ten wrestlers in the finals. For the past 18 years, Cobre High School has won 6 team titles and placed 13 times.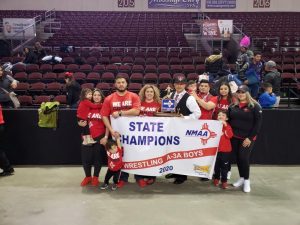 What teacher or coach had the most influence on you?
I would say Barry Form, he's actually from Albuquerque. He wrestled at Del Norte High School. He was a big influence on me, as well as my dad.  There are five brothers in my family and all of us wrestled.
What was your favorite subject in school?
That's a hard one. I would say PE and weightlifting. It really helped me performance-wise in the sport. When I graduated from high school, I actually didn't think I'd graduate from college, but I did.
What tv shows do you watch on a regular basis?
I'm fascinated with all kinds of sports. I watched The Last Dance with Michael Jordan, I always tell people he is why I'm a Bulls fan. We also like lots of documentaries.
If I give you the power to put any movie on tv you want to watch, what movie would it be?
Vision Quest.
Who's your favorite musical artist?
Journey
Have you seen them in concert?
I have seen them in concert. I saw them with Def Leppard.
If you could go on vacation anywhere in the world, where would you go?
I think Alaska, to be honest. I just think there's a lot of land and not too many people and you could enjoy yourself. I like the beauty of the scenery, I feel that's very remote and I like the outdoors. We're hunters, we love the outdoors.
If you could only have one food for the rest of your life, what would it be?
I would say enchiladas.
What is your life motto?
I have many. More than anything, I think the biggest thing I impose on my wrestlers on a day to day basis is to always remember that your education comes first and wrestling is a privilege. Even though you have both, don't ever take it for granted because you never know when it's going to be the last time doing it. You achieve to be a great student. Be a remarkable individual. You can be the best wrestler and a state champ and undefeated, but you cannot take that state championship and put it on your resume. Always aim high and try to achieve the best you can. You have your basic standard, but you need to always set them even higher. As a wrestler, I always tell them if you want to become a champion you have to practice like one.