GET TO KNOW THE COACHES: TOBY MANZANARES, RIO RANCHO HIGH SCHOOL
Toby Manzanares is the head volleyball coach at Rio Rancho High School, a position he's held since 1997.  Toby was born in Albuquerque and attended St. Pius X High School.  He would go on to study at Eastern New Mexico University and earn his Master's degree in Physical Education with a minor in Health Education.  "I originally went to Eastern to study sports medicine," Toby recalls.  "I was an athletic trainer for four years.  I was eventually assigned to coach women's volleyball.  I was an assistant at Portales High School my junior year in college.  I spent two seasons there, we lost in a pair of state championships to Goddard (in 1986 & 1987).  After that, I was hooked."
He hasn't left the sport since.
After college in 1987, Toby was offered a job at Shiprock High School to coach sophomore boys basketball and teach PE. "I literally had a contract in my hand when my mom called and asked me to call Socorro High School because they kept calling," he said.  "They needed a volleyball coach and told me I was highly recommended by Flo Valdez and Brenda Stockton.  I told them I can come to the school in the morning.  So, I hustled down to Socorro, they showed me around and the principal said 'take him down to the district office', and within hours I had the job."
Manzanares coached at Socorro High School for two years.  After a couple seasons, a position opened up at his alma mater St. Pius X.  He took over the Sartans in 1989. Manzanares led St. Pius X to back-to-back appearances in the state finals in 1993 and 1994, winning his first state title in '94.  Following the end of the 1995 school year, he then left St. Pius to "get back into public education" and coach volleyball at Moriarty High School.  "I commuted from Albuquerque to Moriarty for two years," he said.  "Fortunately, we had two very mild winters those years.  It was rough going back and forth."
When Rio Rancho High School was being built in 1997, Toby made a few phone calls and applied for the volleyball coaching job.  23 years later, he's still leading the Rams' charge, winning state titles in 2002, 2003, 2005, 2006, 2007 and 2009 along with four other runner-up trophies with Rio Rancho.
"It's kind of crazy how things happen," he said.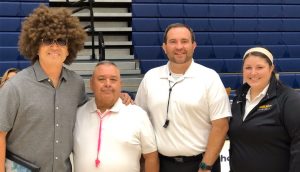 Get to know a little more about Toby Manzanares:
What sports did you participate in high school?
I played freshman football and ran track and field, but not until late in my career (my junior and senior years). I was tiny, good athlete. St. Pius had the cream of the crop, I was just not physically big enough to deal at that point in time. I spent most of my time in athletics as a trainer and manager for football. I felt like I was on either of those teams. My senior year I grew like five inches, everyone wondered where this size was years ago.
What's your favorite moment as a coach?
I think it's the process of seeing your kids at the beginning of the year and seeing the end product. It's a lump of clay. You have an idea of what you want, but you truly do not know how it will turn out. Sometimes you think you don't have a good masterpiece and it ends up looking great and other times it doesn't turn out that way. Our first state championship at St. Pius was memorable. You always want to get there and win. We fell short in '93 and never thought we'd get back, that's what drives us, to get back. It was out in Moriarty. The kid who got the final kill landed and tore her ACL, so there was a moment of elation and many moments of despair.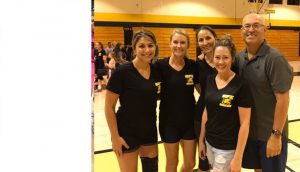 What teacher or coach had the most influence on you?
I've always given credit to Bill Duffy at St. Pius. I wasn't an athlete on his basketball teams, but I was just as important as every kid on that roster. Ray Giannini, as well, they were two special men that were able to lead young men and get them where they envisioned. I wanted to give back as they gave to me.
What was your favorite subject in school?
At the St. Pius on Louisiana, I loved PE.  Coach Ron Tybor was funny and engaging and held us to a high standard, it was not a fluff class.  You looked forward to interacting with him. When I hear kids at Rio Rancho High School say PE is my favorite class of the day, it makes me feel good.
What tv shows do you watch on a regular basis?
I love the cooking channel. I love CSI, I love Jeopardy. Anything that has to deal with sports, I'm always on the sports channel if I'm not on the cooking channel.
If I give you the power to put any movie on tv you want to watch, what movie would it be?
Probably Remember the Titans. Wow, so good!
What's your favorite candy?
Payday
If you went on a long road trip and were in charge of the music, which artist would you play first?
Earth, Wind and Fire.  That was my first album in high school. It was my first turntable and I played that thing until my needle got filed down.
If you could go on vacation anywhere in the world, where would you go?
I would probably go to Italy and venture out from there. You can get to another worldly city in two hours from there.
If you could only have one food for the rest of your life, what would it be?
Steak and potatoes
What is your life motto?
I promoted this for the longest time and continue and always come back to it, Hold Onto Your Rope. We have 12 members on our team, but we all come from the same piece of rope. Everyone gets a small piece. The end of the rope represents the end of the season. We hold onto that rope and we know if we have to make a decision that will cause us to lose our grip, someone else is holding onto the rope and can help us. We put that piece of rope where they can see it every day, on the rearview mirror, on the book bag. The coaches get one too, we are trying to hold on. It's an emotional, psychological, and mental unwritten contract to get through the tough times and hold on and enjoy the good times.