ALBUQUERQUE ACADEMY HONORS EIGHT STUDENT ATHLETES & MORE SIGNINGS AND COMMITMENTS
Here is a look at some of the recent signings and college commitments for high school student-athletes in New Mexico.
Albuquerque Academy hosted a video conference to honor and recognize their student-athletes who are going on to compete at the next level.  They included:
Julian Garcia, cross country, University of Arizona
Audrey Colter, soccer, Air Force Academy
Courtney Lohmeier, soccer, Embry-Riddle Aeronautical University
Teagun Glenn, track and field, Air Force Academy
Jake Hand, swimming, University of Arizona
Tyler Lyon, track and field, University of Connecticut
Matt McNaney, baseball (catcher), Trinity University
Chase Weissenborn, baseball (infielder), University of New Mexico
"It's always been a dream of mine to play at New Mexico," said Weissenborn.  "Once I get there, we are going to compete hard and win."
Glenn appreciates the character of the individuals that come out of the Air Force Academy. "The type of people that go there drew me to it," said the senior standout. "The track team is going to be a force in the Mountain West."  Glenn was disappointed with the cancellation of spring sports, but he is turning the page to look to the future. "I wanted to be a champ in all three throwing events (at state)," he added. "Now I have more time to prepare for my collegiate career."
Having a virtual signing ceremony isn't the traditional way the Chargers celebrate their seniors, but those involved appreciated the recognition.  "It's made this process and unfortunate end to all of our senior years a little more sweeter," said Courtney Lohmeier.
"It shows they are able to adjust and adapt to whatever the situation may be," said Academy track and cross country coach Adam Kedge. "They are going to represent the state of New Mexico really well. They are going to be the future leaders of New Mexico and our country."
OTHER SIGNINGS:
Mayfield High School senior Jayden Dunbar announced she plans to play soccer at Chandler Gilbert Community College in Arizona.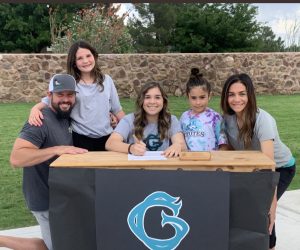 Mayfield senior Jesus Baldonado Jr announced he will play baseball for University of the Southwest in Hobbs, New Mexico.