"Compete with Class" Sportsmanship Scholarship presented by NM National Guard – Tyler Ortiz, Moriarty HS
The New Mexico Activities Association is excited to announce the recipients of the 2019-2020 NMAA Foundation Scholarships.  Over 150 students were nominated or submitted applications, with a total of $22,000 being distributed through 18 different scholarships.  There were nine scholarship categories.  The NMAA will recognize each of these students individually on our website and social media platforms.
Tyler Ortiz of Moriarty High School received a $1,000 Compete With Class Scholarship presented by the New Mexico National Guard.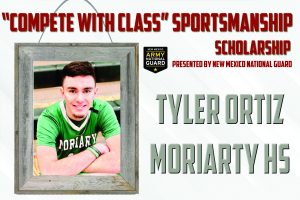 Tyler Ortiz, a senior at Moriarty High School, is a multi-sport student-athlete who competes in basketball and football for the Pintos.  Ortiz is one of the captains for the Moriarty basketball team and is a valuable asset to his coaches while he is on the court.
Referees have noticed that Ortiz always competes hard and plays within the rules.  He reminds his teammates to remain calm when a call doesn't go their way.  Ortiz consistently lends a helping hand to teammates and opponents when they are on the ground.  When one official thanked Ortiz for being a good role model, he responded by saying, "That's what a captain is asked to do."  Ortiz also stepped up in a time of tragedy within the community to help honor a pair of his teammates. The senior was instrumental in helping friends and family heal following a fatal car crash involving the Sandoval brothers, Mateo and Pedro.  Helping out others and leading by example is how Tyler Ortiz Competes with Class.