"Compete with Class" Sportsmanship Scholarship presented by NM National Guard – Tristen Gonzales, Santa Teresa HS
The New Mexico Activities Association is excited to announce the recipients of the 2019-2020 NMAA Foundation Scholarships.  Over 150 students were nominated or submitted applications, with a total of $22,000 being distributed through 18 different scholarships.  There were nine scholarship categories.  The NMAA will recognize each of these students individually on our website and social media platforms.
Tristan Gonzales of Santa Teresa High School received a $1,000 Compete With Class Scholarship presented by the New Mexico National Guard.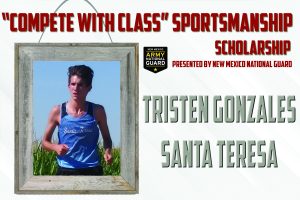 Tristan is a senior at Santa Teresa High School, who truly defines good character.  Gonzales ran cross country and competed in the Laguna Burger State Cross Country Championships.  It was his attitude following the conclusion of the competition that showed others how to handle adversity.
In the Class 4A Boys race, Gonzales crossed the finish line in a pack of four runners.  The time posted for Gonzales put him in 17th place overall individually.  Gonzales's finish would contribute to his team's point total and put Santa Teresa in fourth place overall.  However, because of a technical timing error discovered later, Gonzales actually finished two spots higher.  Those additional points would have given his team a third-place finish and a trophy instead of fourth.  While many athletes might complain, Gonzales accepted the mistake and understood that technical errors of the system can sometimes happen.
But, this is not the entire Compete with Class story for Gonzales.  His positive approach to competition was also displayed during the Science, Technology, Engineering and Math (STEM) Challenge.  His team was not one of the winners, but following the competition and results, he thanked organizers for the opportunity to participate in the event.  Gonzales admits his team should have performed better, but he was happy for all of the other winners.  An approach to adversity with a positive attitude is how Tristan Gonzales Competes with Class.