Mario Martinez Memorial Scholarship – Ariana MacAuley – Peñasco
The New Mexico Activities Association is excited to announce the recipients of the 2019-2020 NMAA Foundation Scholarships.  Over 150 students were nominated or submitted applications, with a total of $22,000 being distributed through 18 different scholarships.  There were nine scholarship categories.  The NMAA will recognize each of these students individually on our website and social media platforms.
Ariana MacAuley of Penasco High School received a $1,000 Mario Martinez Memorial Scholarship.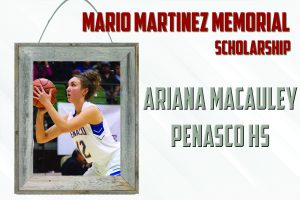 Ariana MacAuley, a senior at Peñasco High School, carries a 4.0 GPA and is involved in many sports and activities at her school, including basketball, cross country, track & field and volleyball. MacAuley helped her team to a state runner-up finish at the 2018 State Basketball Championship and district titles in 2018 and 2019. She has been a part of two state championships in cross country in 2016 and 2017 and guided her team to a spot in the quarterfinals at state volleyball.
MacAuley was recognized as a National Hispanic Scholar and a National Merit Scholarship Semifinalist. She been accepted to Stanford University, where she plans to continue her education in the Fall.
In addition to the four sports MacAuley competes in, she is involved in several clubs as well. She participates in Envirothon (an environmental science club), 4-H, National Honor Society, and is Peñasco High School's Class President. Last year in Envirothon, her team placed second at the state competition. MacAuley also holds the office of Secretary of her National Honor Society chapter.