"Compete with Class" Sportsmanship Scholarship presented by NM National Guard – Mia Walker, NMMI
The New Mexico Activities Association is excited to announce the recipients of the 2019-2020 NMAA Foundation Scholarships.  Over 150 students were nominated or submitted applications, with a total of $22,000 being distributed through 18 different scholarships.  There were nine scholarship categories.  The NMAA will recognize each of these students individually on our website and social media platforms.
Mia Walker of the New Mexico Military Institute received a $1,000 Compete With Class Scholarship presented by the New Mexico National Guard.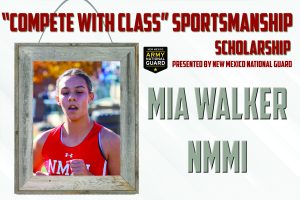 Mia Walker is a senior who runs cross country for the New Mexico Military Institute.  Walker showed great sportsmanship and character by honoring a fellow competitor at a meet in Artesia last fall.
Due to heavy rains that week, Artesia had to layout an alternate course and, because of some confusion, the Varsity Girls all took a wrong turn and ended up cutting a significant part of the course. However, one Gateway Christian runner was a significant distance behind and did not see the main pack take the wrong turn.  She instead continued on the correct course and was the only varsity girl to run the complete course.  Walker finished first in the Varsity race and was awarded the first-place medal.  At the conclusion of the meet, she learned that the runner from Gateway was the only girl to run the correct course and, on her own initiative, gave her first-place medal to the athlete from Gateway, telling her that she was the true winner.  Mia Walker knows that respecting your opponent is one of the ways everyone can Compete with Class.