LOS ALAMOS GIRLS ARE LED BY 4-TIME UNDEFEATED NATIONAL CHAMPION
When you're beginning a new sport, you want to learn from the best and that's what the female wrestlers have up in Los Alamos. Their coach knows what she's doing.
"Hard working, compassionate, super passionate about what she does," said 1st year wrestler Aspen DeHerrera.
The Los Alamos girls are led by Emily Tew.
"I started wrestling in seventh grade and wrestled in high school and I qualified for boys state two times in Missouri," she explained.  "Then I got recruited by Oklahoma City University and I wrestled for them for four years and I ended up an undefeated four-time national champion."
Let's stop right there.  Undefeated four-time national champion. Her record in college was 118-and-zero! With 12 tournament titles during her collegiate career.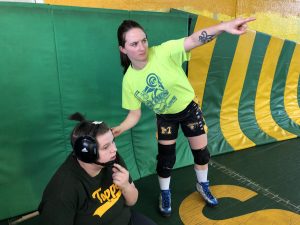 "She's a great coach," said Suyana Ferriera.  "She puts all her time into training us and getting us prepared for everything and she cares about us personally."
Tew not only cares about her wrestlers, she's passionate about the sport.  The self-described perfectionist says she loves the constant challenge in wrestling and there's a place for everyone.  "The other thing I really love about wrestling is, I think, it's one of the only sports where everyone can compete," Tew said.  "I'm 106 pounds, 4-foot-9, I'm not good for basketball.  I'm not going to play a lot of sports, I just don't have the body type, but that doesn't mean I can't wrestle.  It's the same way for some bigger girls and bigger guys.  We've got weight classes in high school from 100 (pounds) to 220 for the girls and that's amazing to me.  You can really have any body type and you can wrestle."
Currently, there aren't a lot of female coaches in the sport of wrestling.  "That's not something I had," said Tew.  "I think that's really cool that they can see there are women doing this."
"I feel like I could go to her with certain problems that I couldn't go to anyone else for," said DeHerrera.  "It's also super intimidating because she knows exactly what we go through so we can't be, like, annoying about our problems."
Tew preaches that wrestling helps you push through an uncomfortable situation or forces you to have a little more grit, not only on the mat but for life's obstacles.  "It's not about wins and losses, it's about learning and analyzing yourself," she said.  "How do I learn?  How do I make this better?  How do I fix this little problem I'm having in a wrestling match, but it doesn't have to just be wrestling.  It could be I'm having this problem in a relationship or I'm having this problem retaining this information.  What can I do to make it better?  I try to push that in practice."
According to their coach, the Los Alamos girls are still a little green when it comes to wrestling, but that's not what's important to her.  She appreciates the girls who come out and that they are the ones helping build a foundation.  "They're beginning to fall in love with the sport like I did and I think that's really the important thing," she said.  "Coach Hatt (boys wrestling coach) keeps telling me Rome wasn't built in a day or two days or a season, but we're getting there.  We're introducing a whole new sector into the great sport of wrestling and I think that's just amazing."
Amazing, a description that applies to the accomplishments of the Los Alamos girls wrestling coach and the potential they have as a program.