WRESTLERS TO WATCH AT THE 2020 NEW MEXICO NATIONAL GUARD STATE WRESTLING CHAMPIONSHIPS
The New Mexico National Guard State Wrestling Championships will take place this Friday and Saturday.  Here's a look at just some of the wrestlers to keep your eyes on this weekend.
Tristan Mascarenas, Cleveland, 113: 2-time defending state champ who appeared in a state final in each of the last three years, currently with a 28-5 record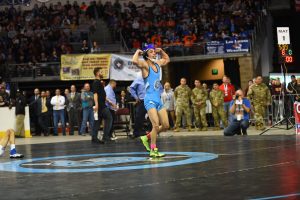 David Graves, Las Cruces, 145: One of the few wrestlers with 40 wins on his resume this season (the 145 pound bracket in Class 5A is loaded!)
Bode Wooley, Aztec, 145: The top seed in 2020 with a 39-5 record came up short in the 152 pound final last year
Andrew Trujillo, Robertson, 145: Looking to become just the 27th wrestler in state history to win a 4th state title.  He went 46-1 last season and enters this tournament with a 33-3 record.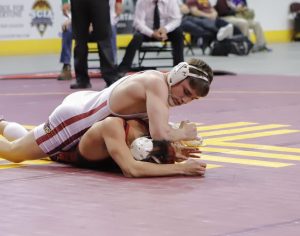 Alex Holguin, Cobre, 152: A 2019 state champ in the 152-bracket, looking to repeat entering this week with a 30-2 record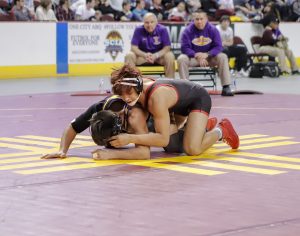 Mason Box, Carlsbad, 152: 2019 state champ who also finished 1st at this year's Conflict at Cleveland.  Box handed Holguin his first loss of the year at the Conflict at Cleveland.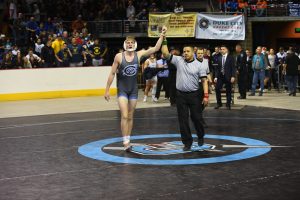 Manuel Robles, Volcano Vista, 152: Won the 145-pound bracket at state in 2019, on a possible collision course with Box on the other side of the Class 5A 152 pound bracket.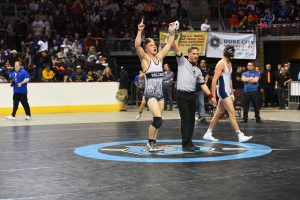 Justin Wood, Carlsbad, 160: A 4-time state finalist and two-time state champion who capped a perfect career at the Joe Vivian winning his 5th straight tournament title.  He only recorded 15 matches this year.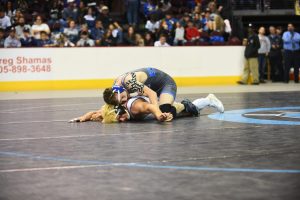 Jesse Dani Perez, Deming, 160: He has a 36-0 record and he's the only wrestler to beat defending state champ Justin Wood this season.
Matthew Gurule, Los Lunas, 160: Only has one blemish on his resume with a 20-1 record
Luis Teran, Bernalillo, 170: The Spartan senior has a perfect 31-0 record.
Cirrail Allison, Farmington, 170: Undefeated top seed with a 40-0 record heading into his senior year state tournament. Named outstanding wrestler at the Joe Vivian in the upperweight classificiation
Zackary Small, Farmington, 182: The Farmington junior is a perfect 46-0 heading into the tournament.
Gabe Garcia, Cleveland, 195: Looking for redemption after falling short in the 2019 final
Ernest Martinez, Atrisco Heritage, 285: Claimed the Joe Vivian heavyweight title this year and is the top seed this weekend with a 34-1 record
Girls to watch:
Angelita Altamirano, Onate, 100: The top seed with a 19-1 record has dominated this year.
Santii Santiago, Atrisco Heritage, 106: The junior has a 22-1 record and is a part of a deep Atrisco Heritage squad
Desirae Archuleta, Atrisco Heritage, 113: The senior has yet to lose this year with a 22-0 record
Makayla Munoz, Aztec, 126: Only a freshman and was considered one of the top wrestlers in the state as an 8th grader last season. She is 26-0 heading into the tournament.
Yele Aycock, Miyamura, 132: A favorite to win her division in almost every meet.  The junior is 29-0 this season.
Annalease Barraza, Albuquerque, 220: The senior has a perfect 12-0 record this year.
Here is a link to the brackets
https://www.trackwrestling.com/predefinedtournaments/MainFrame.jsp?newSession=false&TIM=1582056548757&pageName=