PENASCO GIRLS ARE BUILDING A FOUNDATION "BRICK BY BRICK"
At the gym in Penasco, a boys championship banner hangs from 1981.  The girls have a pair of runner up banners, but no championship.  They hope to change that this season.  "We all want a state title and that's what we're looking for," said senior Carly Gonzales.
"We've been wanting this for a long time and with a coach like this she inspires us every day and she inspires us and believes in us and we believe in ourselves now," said senior Ariana Macauley.
That coach is Mandy Montoya.
"She's great, she taught us a lot of new things and being a senior I wish I had her my younger years," said senior Alexandria Sandoval.
"She's always motivating us and she's very competitive too," said senior Adrianna Tafoya.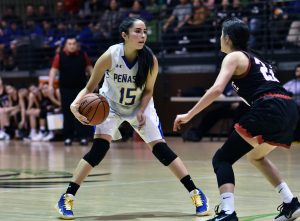 Montoya took over the program after four years coaching at Northern New Mexico College.  "I think for the past couple of years I thought about going back into high school," said Montoya.  "I kind of missed being around the kids all the time."
This group doesn't fit the mold of previous Penasco teams.  "We're not your typical northern New Mexico group," described their head coach.  "We have some size and that size is able to play the guard spot and push the ball up and down the floor in transition."
They might not be your typical northern New Mexico team, but they won the NRG tournament this season.  "It meant a lot going against Pecos because they have been a top team and last year they beat us," said Macauley.  "So we wanted to prove this year we were going to come back stronger."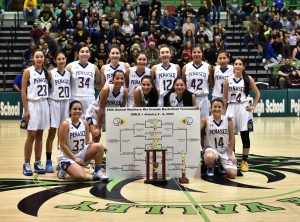 Penasco is loaded with talent and experience.  They have seven seniors on the roster, led by post player Carly Gonzales who averages a double-double.  "Carly Gonzales is probably the top post, I think, in the state," said her coach.  "She's one of the top posts I've ever worked with, even at the college level.  When she started working out with me, she didn't know a lot so we've been working on her post moves."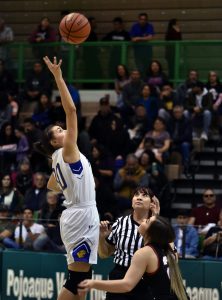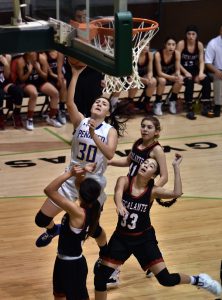 "I've noticed that basic skill work that she taught me and trusting the process has really paid off," said Gonzales.
"She's super quick, she's a two-time state champion in cross country, so she has athleticism," add Coach Montoya.  "She runs our break half the time, so she's just a basketball player."
Along with the talent, this team admittedly plays with a chip on their shoulder  "There's definitely a chip on their shoulder," said a smiling Montoya.  "I coach like that.  I've had doors closed on me my whole life.  They kind of took that on, too."
"People are like, 'Oh, they made it to state for years and haven't done anything, they're not good', but we're coming out to get that championship," said Sandoval.
Penasco is putting together one of the best records in the state, but their eye is on the big prize.  "The success has been fun, but at the same time, we're just trying to build every day brick by brick," explained Coach Montoya.  "I think from May 18th, when I got the job, one of the things I told them is we have to trust the process and every day brick by brick.  Hopefully by the time March comes around that foundation is pretty solid."
Do they talk about winning a state title?
"We've talked about it since day one," admits the 1st year head coach.  "Every year you should go in and your goal should be state.  If you're not trying to win, then I don't know what you're playing for."
This group is playing for the blue trophy.  If they get it, they'll be a part of school history.
*photos courtesy John Denne