FAST TIMES AT NOTRE DAME FOR FORMER LA CUEVA STANDOUT JACK HOAGLAND
above photo courtesy Notre Dame
Former La Cueva High School swim standout Jack Hoagland is sure making waves in his first year at Notre Dame.  He is posting some of the fastest times in the water. This past weekend, Hoagland set three pool records at the Shamrock Invitational.
Hoagland set a new pool mark in the 400-yard individual medley (3:46.38), the 500yd freestyle event (4:17.12) and the 1650yd freestyle race (14:46.08).
"Before the meet, my coaches were talking to me about certain details and said I had a chance at breaking those records," Hoagland said.  "I was more concerned with getting the NCAA qualifying times.  Going into the water and swimming so fast was phenomenal!  I was very excited."
Hoagland says his first year at Notre Dame has been a great experience.  "I knew the training was going to be hard, but the school and the swimming are different than high school," he said.  "Getting all your homework done and all the hours of work was a little unexpected.  I actually love school, which has been a change," he joked.  "It's a grind every day, but spending time with my friends and this year has been the best experience of my life so far."
Hoagland logs lots of hours in the water, twice a day.  "I wake up around 5am for 6 o'clock practice and then we have practice again at 3:30pm," he explained. "It's higher yardage and volume in college.  I swim about 15,000 yards a day and back home I was swimming about 6,000 yards a day.  Not only is the volume higher, but the intensity is higher too.  The ability to chase after my teammates pushes me harder."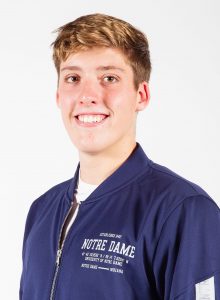 photo courtesy Notre Dame
In high school, Hoagland was tough to beat in the pool.  His junior year he won state titles in the 200-yard and 500-yard freestyle races.  His senior season he was a repeat winner in the 500yd freestyle event, as well as winning the 200-yard individual medley.  His times in the 200yd freestyle, 500yd freestyle and 200yd IM are all state records.
Hoagland has a full calendar in the coming months.  He will swim against Ball State and Michigan State this weekend, followed by the ACC Championships February 26 in North Carolina and the NCAA Championships on March 25th in Indianapolis.
This summer, Hoagland will try to punch his ticket to the Olympics.  Last summer, he qualified for a spot in the 2020 Olympic Trials in the 200-yard Individual Medley.  Since arriving at Notre Dame, he qualified for two more events at the Trials, the 400yd freestyle race and 400yd IM.  "I hope to also qualify for the 800-yard free and 1,500-yard free for the Olympic Trials," he said.  "I don't know if I'll swim in five events, but I would like to have a variety to choose from."
Making the Olympics has been a dream of Hoagland's for a long time.  "It would mean the world to me," he said.  "It's a far reach, but the hope is what's pushing me to go faster every day."
Hoagland is already headed in the right direction…
With some pretty fast times.