NMAA RECOGNIZES SPIRIT OF SPORT WINNERS
Albuquerque, N.M. – Tyler Jenson and Max McGaha of La Cueva High School have been selected as the recipients of the 2019 New Mexico Activities Association Spirit of Sport Award.  The award was created by the Association to recognize those individuals who exemplify the ideals of the spirit of sport that represent the core mission of education-based athletics.
Tyler and Max were involved in two different sports in two different parts of the state, but were joined together by a potentially deadly diagnosis.  Tyler is a football player and track athlete at La Cueva High School.  Just one year ago, he noticed a little bump underneath his arm that changed his life.  Over 150 miles away in Farmington, a 15-year old baseball player at Piedra Vista High School named Max McGaha would have his own medical emergency.  Both would be diagnosed with different forms of cancer that would not only end their seasons as athletes, but would also threaten their lives.
Tyler and Max had never met, but their paths crossed at a hospital in Albuquerque.  "I saw him walking around when I was diagnosed, I met him and we played video games," said Max.  "We'd be in different hospital rooms, but we'd be playing together on Fortnite or something like that," said Tyler.  "Even when we were at home in between treatments we were playing video games".  Tyler and Max were now teammates in the battle against cancer and both had the drive and will to get better.  No matter the condition or physical toll it took, neither athlete was going to let their disease win.
It is now a year after the original diagnosis – Tyler is suited up with the football team and Max is back to baseball.  Max and his family have since moved to Albuquerque, so not only are both boys beating cancer, but they will soon be classmates at La Cueva High School.
Never give up.  Strive to be your best in spite of any adversity.  That's the spirit of sport and that's the fire inside of Tyler Jenson and Max McGaha.  A video and story recognizing these amazing student-athletes can be accessed from the NMAA website at the below link: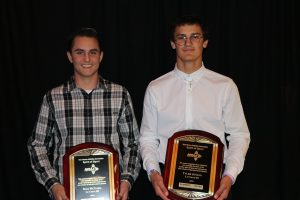 The 2019 New Mexico Activities Association Spirit of Sport Award was presented at the NMAA/NMADA Fall Leadership Conference Lunch Banquet yesterday.  Tyler and Max were given a special plaque to commemorate their selection.  Both will now be nominated for the National High School Spirit of Sport Award that is given out by the NFHS each year.