TAOS TO OPEN THE YEAR WITH SEVERAL NEW FACES
As the 2019 High School football season approaches, we will preview the defending state champs in each class.
Class 4A
Taos High School
2018 record: 12-1
Head coach: Art Abreu
Last game: 14-7 win over Bloomfield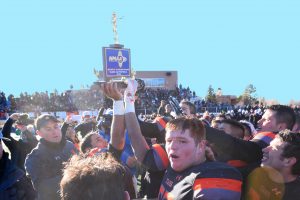 2019 Outlook: The Tigers lifted the blue trophy for the first time last season and lost a lot of key seniors.  They will be the same Taos squad that uses the run to set up the pass, but there will be many new faces in those positions.  In a word, this year's team will be young.  Angel Limas will carry a lot of the scoring load.  Senior Santiago Salazar will anchor the line, but he will be surrounded by underclassmen. The Tigers open up against St. Michael's on August 23rd.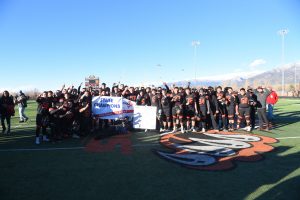 Key returning players: Angel Limas senior WR/DB, Santiago Salazar senior OL/LB, Noah Armijo senior QB/DL
"If we are going to be successful again, we need to have our senior class lead." – Art Abreu