TATUM COYOTES HOPING TO BE IN THE HUNT AGAIN
As the 2019 High School football season approaches, we will preview the defending state champs in each class.
8-man
Tatum
2018 record: 10-2
Head coach: Gary Richardson
Last game: 28-20 win over Gateway Christian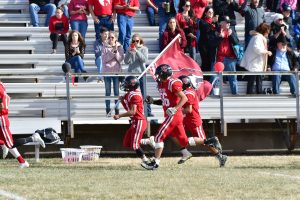 2019 Outlook:  Tatum should be in the hunt again this year.  Their offense should be potent with six returning starters.  Tatum's run/pass ratio last year was 50/50 so this program is very balanced and can take advantage of anything they fell they need to do during a game.  Senior quarterback Sebastian Jimenez will be their leader on the field.  Head coach Gary Richardson describes him as "an accurate passer and can run effectively as well."
Defensively they have seven returning starters.  Richardson says they "hope to give up fewer points on defense this year with a swarming, hard-hitting defense".  Tatum generally runs a 3-man front on defense, but can use a 4-man front as needed. Melrose, Gateway Christian, Mountainair and Mesilla Valley will give Tatum a test.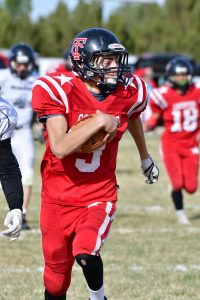 Key returning players: Sebastian Jimenez – QB/S – senior, Scott Alexander – FB/DE – senior, Kaden Rodriguez – WR/Sec- senior, Bryan Garcia – FB/LB – senior, Cesar Dominguez – C/DL – junior, Luis Cervantes – RB/LB – junior, Kivan Cardenas – TE/Sec – junior, Ruben Ibarra – FB/G/LB – junior, Pete Ponce – WR/Sec – junior, Skylar Campbell – OL/DL – junior, Charlie Liverett – OL/DL – junior, Ariel Baeza – OL/DL – junior, Carson Little – OL/DL – sophomore, Hayden Mullins – RB/LB – sophomore, Sam Harris – OL/DL – sophomore, Ranley Krueger – OL/DL – sophomore, Abraham Duran – RB/WR/Sec. – sophomore, Cesar Ibarra – OL/DL – sophomore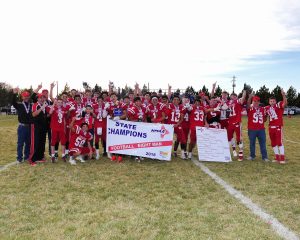 "If we are going to be successful again, we need to come together and play as a team, avoid injuries through the tough season, and play better defense." – Gary Richardson