"I really think the dark horse that not enough people are talking about is Clovis"
The high school football season kicks off this week.
"I really think the dark horse that not enough people are talking about is Clovis," said La Cueva head coach Brandon Back.
"That's awfully nice, coming from the defending state champions with the type of guys they got and the coaching staff they got," said Clovis head coach Cal Fullerton.
"We are going to be a whole lot better than we were last year, we're going to get the ball moving," said senior lineman Bryce Cabeldue.
The Clovis Wildcats were 4-and-7 last season, but return several players at the skill positions on offense.  Junior Chance Harris is their starting quarterback.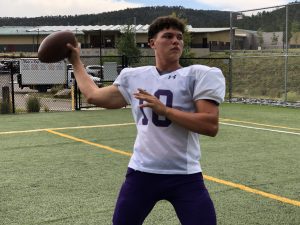 "He's one of our hardest workers," said Fullerton.  "He's the first one there and the last one to leave.  He's athletic and makes really good decisions.  He's young still but he's got some years underneath him already. We're going to spread it around and try to get it to our athletes and get them out in space."
"He's a great quarterback," said senior receiver Malik Phillips.  "He can sling the ball far, he's tough."
The Clovis schedule is no cakewalk.  The Wildcats open the season at home against Hobbs followed by games against Los Lunas and Rio Rancho; all three were playoff teams last year.  Then Cal Fullerton and the group will take on three Texas teams before they start district play.
"Two of the teams we play are top 15 in the state (Lubbock Cooper and Lubbock Coronado)," said Fullerton. "Then you have Lubbock Monterey that has better looking guys than the other two schools.  It's a tough three weeks for sure."
Their journey starts officially in just a couple days.