VIKINGS READY FOR A NEW SEASON, NEW CLASS & NEW DISTRICT
Practice looks the same at Valley High School.
Judge Chavez is beginning his third season as head coach of the Vikings program, but this year will be different.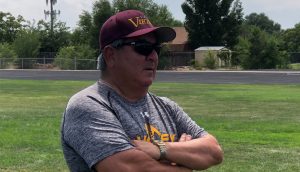 "A lot of people say 'You guys are going down, right?'  I said, 'No, we're not going down, we're playing where we're supposed to play."
Valley dropped down to class 5A.  Chavez doesn't look at it as dropping down a classification, but rather playing where they should be competing based on the school's enrollment.
"We're a little over a thousand kids and we were playing against schools that had 2500 kids, so now we're playing where we're supposed to," explained Chavez.
"We only have a thousand, 1200 kids here and other schools have 2500 so I don't think it's a bad thing and we're going to make some noise," said senior Manuel Sanchez-Vargas.
"We're dropping down to where we should be and now we're ready to compete," senior Jove Messenger agreed.  "Everybody's real excited to get after it and we're here to put a big exclamation mark on this season."
They will now be competing in district alongside Belen, Los Lunas and Valencia.
"Just because we're going down to 5A doesn't mean that all of a sudden we're going to beat everybody we play," said Chavez.  "You know, there's a team down south called Artesia that wins a whole lot of football games."
Valley will no longer be district rivals with schools like Highland and Albuquerque High.
"It's definitely disappointing, but now is a time to start some new rivalries and get after it with some other teams," said Messenger.
Ironically the Vikings open the season August 24thagainst former district rival Albuquerque High.