SUBWAY FEATURED STUDENT: ISSAC DUARTE, ALAMOGORDO HIGH SCHOOL
Just talking with Alamogordo's Issac Duarte, you can feel his energy and enthusiasm about playing under the Friday night lights come through with every sentence.
"The environment is outstanding," he said as he smiled while describing the atmosphere.  "You've got so many supporters. All the businesses close to come to the games every Friday night to cheer us on."
Duarte plays both ways for the Tigers.  He is an offensive tackle and defensive end.  "I prefer defense, it's more physical."  He's built for the game, too.  Duarte is currently 5'10" and 305 pounds.  The junior says he was raised on football, watching family members take the field every week.
"I was raised into it. I remember being in elementary school and coming to the games Friday nights, watching my cousins."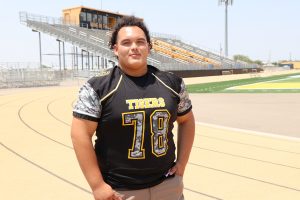 Duarte's been playing football for the past 9 years and also competes in track and field during the spring. He throws the shot and discus and has plans to give javelin a try, too.  Speaking of trying new things, Duarte says he's going to give wrestling a go this winter.  "A lot of my family members have been wrestling in previous years, so I thought I'd give it a shot."
You can tell family is a big focus and influence in his life.  Issac has goals to play college football and pursue a career as an orthopedic surgeon.  "Both my parents are in the medical field, so it inspired me.  I enjoy helping people."  Issac has a 4.0 GPA and earned recognition as a Golden Scholar and a member of the National Honors Society.
Issac's sister Nyomi is a freshman at Alamogordo High School who competes in soccer and softball.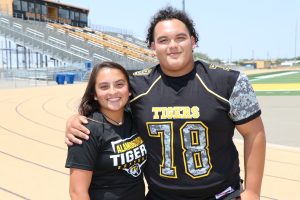 Click on the link above to hear from Issac Duarte