ACADEMY GOING FOR SWEET 16
The success of the Albuquerque Academy boys tennis team is about as consistent as the sun rising every morning.  This year they are going for 16 state titles in a row.
"These kids expect it," said head coach Ray Jaramillo.  "They hold themselves to high standards so we just continue to work ourselves into the position to try and win it every single year because they are expecting to win it every single year."
Why are they so good? There are a couple reasons.
"I think Academy just attracts a lot of tennis players, to begin with," explained junior Alex McLaughlin.
"The players just have a drive to get better every single day," said junior and #1 seed Abraham Yohannes.
Of course, playing lots and lots of tennis also helps.
"A majority of our kids, they play tennis year-round," explained head coach Ray Jaramillo. "When most other schools are done playing tennis, they go to their other sports or other hobbies but our kids just continue to play."
The challenge matches at practice are sometimes more competitive than the meets.
"The competitiveness between the players is what keeps us going and then coach just inspires us even more to do that," said Yohannes.
The competition has their work cut out for them again.  Academy has the number one singles player and the number one doubles team.
"It's a deep team, they dominate.  That's what they do," said Jaramillo.
There's no sign of letting up in the future with only two seniors and seven juniors on this year's squad.
"There's obviously pressure, but as a team we handle it pretty well I would say," said McLaughlin.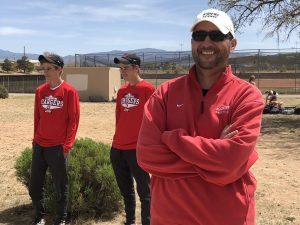 The Academy Chargers going for a sweet 16 this week.
Singles and doubles competition start on Wednesday.  The team bracket will be played Friday and Saturday.