CENTENNIAL HAWKS CONSIDERED ONE OF THE FAVORITES TO REPEAT
The Centennial girls claimed their first girls state golf championship last season, and they are one of the favorites to win it again this year. "There's a little bit of pressure, but I think our girls can handle it," said senior Alex Armendariz.
The Hawks beat the field by more than 30 shots at a recent 5A Preview tournament at Twin Warriors Golf Club where they lifted the blue trophy last season. "We've been playing pretty good this whole season, so I'm confident we can do good here," said Armendariz, who was last year's individual state runner-up.
"We're in a pretty good spot scoring," said senior Brooklynn Maes.  "We practice really hard to prepare for each tournament, so I think we're in a really good spot right now."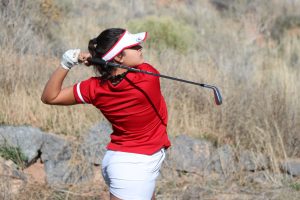 Centennial is led by seniors Alex Armendariz and Brooklynn Maes who both finished in the top five individually at state. "Brooke and I are the team captains and I feel like we do a pretty good job keeping the team in compsure," said Armendariz.
So, what's it going to take to win back-to-back blue trophies? "It's going to take a lot of hard work and trust and patience," said Maes.
They will tee it up at state on May 8th and 9th.