NEW COACH, OFFENSE, AND DISTRICT FOR CLOVIS IN 2022
Clovis High School has won 13 state football titles, but they haven't lifted the blue trophy in more than 20 years.
"He had the 2001 state trophy on his desk when I walked in to meet him (Clovis athletic director), so I know there's pressure," said Andrew McCraw.
New Mexico native Andrew McCraw replaces Cal Fullerton as the Wildcats head coach this year.  He played and coached and Eastern New Mexico University and has over a decade of coaching experience in the state.  He was at Belen last season, but left after just one year. McCraw explained his reason for taking the Wildcats' job in two words.
"It's Clovis," said McCraw.  "It's a school with great tradition.  I'm from Lovington and loved playing football at Lovington and these kids love being Wildcats.  When you see kids like that, it's exciting.  There's great support and all those things you want in a job."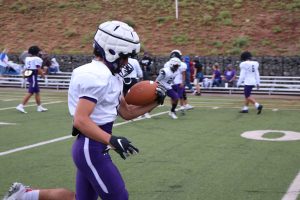 McCraw brings a new style of offense to Clovis. "They've been a team that threw the ball a little more and I'm a big flexbone-option guy, that's what I've cut my teeth with on my coaching career and we've been real successful doing that kind of thing," explained McCraw.  "I think our kids fit that system well and once we figure it out, I think we have a shot at being really, really good."
"It's really exciting, it's a whole different offensive scheme," said junior fullback Kash Roberts.
How would the players describe their head coach?
"I think one of the kids the other day called me very passionate," McCraw joked.  "I'm not afraid to tell a kid when they screwed up, but I'm also not afraid to tell a kid when they did something well.  Bruce Arians says, 'Coach 'em hard and love them after'.  I'm a 'coach 'em hard' kind of guy.  These kids work real hard so it's easy to be excited when they do good."
"He's a really good coach, he pushes us," said Roberts.
"He pushes us hard, just as coach Cal did," said junior linebacker Joshua Mondragon. "He's very big on winning and we like that. He expects us to work hard and I like that a lot, too."
"I want to be a team that's know we play really hard," said McCraw.  "We want to give great effort, we want to be tough.  Nothing's tougher than a Clovis Wildcat.  I want that saying to be true about our football team."
Besides a new head coach, and new offense, Clovis has a new district. The Wildcats are in a district this year with Albuquerque, Capital, Santa Fe and Los Lunas.  The Wildcats (0-2) are at Randall High School (TX) this week.