LOS LUNAS TIGERS "HUNGRY" TO WIN ANOTHER ONE
It's something old and something new for the blue (and orange) Los Lunas Tigers this season. "I'd say we have a hungry team, hungry to prove some things," said head coach Greg Henington.
"I think everyone's trying to see how tough we are and I think that's where we're best," said senior quarterback Paul Cieremans.  "We're tough kids over here."
For the first time ever, the Tigers enter the season off a state championship win.  Los Lunas capped off a perfect 13-game season with a 40-28 win over Artesia in the Class 5A final. "We put that on the shelf, along with the trophy a long time ago and we're focused on this year and the challenges that this year brings," said Henington.
"Obviously, we have that same hunger to do it again," said Cieremans.  "Last year was cool, but this year is a new year, and nothing is owed to us this year."
The Tigers return quarterback Paul Cieremans who is just as dangerous on the ground as he is throwing touchdowns. "I just like scoring, so whichever way is possible, then that's the goal," said Cieremans.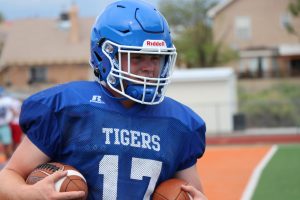 "I think he's a great quarterback, he's a great leader, extremely aggressive and tough, can sling it around when needed, or when he wants to," described Henington.
"He's ready to go, go, go," said Henington.  "He wants to go fast and get moving and we have to make sure we are challenging him and it's not too slow for him and keep up with that learning demand that he has."
Because of growing numbers at the school, Los Lunas moved up to Class 6A.  The Tigers will now play in a district with Albuquerque High, Capital, Clovis and Santa Fe. "I think we'll be just fine," said Henington.  "The difference we see is speed and size overall, but we're feisty, we're tough and hungry, so I think we'll fare just fine."
"Like we talked about last spring, it's a decision that's out of our hands," said Henington.  "We know the challenges that brings in 6A, the competition level.  We're excited about it, we're going to go play football, we're going to line up, and just play."
The Los Lunas Tigers open up the season August 19th at crosstown rival Belen.