RIO RANCHO'S RON MURPHY PICKS UP CAREER WIN #600
The Rio Rancho Rams won the 2022 Albuquerque Metro Baseball Championships last weekend with a 6-0 win over Volcano Vista and the victory was a memorable one for head coach Ron Murphy.  The veteran coach picked up his 600th career win.
"This is a team milestone," said Murphy . "This milestone was achieved with the total support and help from my players, assistant coaches , parents, administration, community and family. I have been very lucky with so much support over the years and this milestone is as much theirs as it is mine."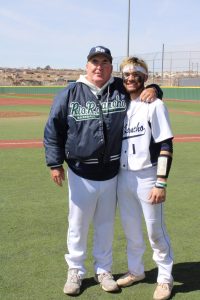 Murphy is the state's all-time winningest coach.  He is the only baseball coach to reach the 600-win plateau in the state of New Mexico.  Murphy is in his 32nd year of coaching.  He also was an assistant coach at both Sandia High School (1985) and Highland High School (1989).  He landed his first head coach job at St. Pius X (1990-1997) before starting the program at Rio Rancho High School.  He is the only head coach in the program's history.  Murphy led the Rams to state titles in 2007, 2009 and 2013 and was named the NFHS National Coach of the Year for the 2019-2020 school year.
"Reaching 600 wins means that I am lucky to have surrounded myself with so many great people in my life," he said.  "I am blessed to have worked with so many great players on and off the field."
The Rams (13-1) host Bloomfield Thursday at 6:30pm in the first round of the Sal Puentes/Rio Rancho Tournament.