CIBOLA'S TOMMY WHITE THROWS NO HITTER
Cibola pitcher Tommy White threw a no-hitter Tuesday afternoon in a 4-0 win over Valley in the first round of the Albuquerque Metro Baseball Championships.  The senior struck out 15 batters in his 112-pitch outing.  It is White's first no hitter with Cibola.
"I was pretty relaxed, just going up there, having fun," White said.  "Anytime you can go seven innings and get a win, it feels good.  But to look up at the scoreboard and see a 0 in the hits column makes it that much sweeter."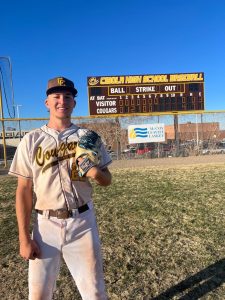 *photo courtesy Tommy White
"Tommy was lights out," said head coach Robert Puentes.  "It was funny.  We talked about keeping him on a low pitch count.  He went deep in his last two starts and we wanted to keep it down.  But the more those zeroes popped up on the scoreboard, it was becoming more and more difficult to take him out. His fastball was on fire."
White committed to play baseball at the University of Illinois.  "Tommy is intense," said Puentes.  "Sometimes he gets emotional on the bump and has so much fire, but it's a great quality to have.  He never wants to come out of the game.  We go as he goes with that fire."
"I always wanted to throw a no hitter, but I never counted on throwing one," White said.  When asked if he thought he could do it again, White responded, "Who knows?  I'm just going to keep trying to do my part.  The way this defense can play, anything can happen."
White and the Cougars advance to face top seed La Cueva Wednesday in the quarterfinals.