VOLCANO VISTA'S DAYNA HERRERA THROWS PERFECT GAME
Volcano Vista's Dayna Herrera threw a perfect game on Thursday in a 10-0 win over Valley in the quarterfinals of the Albuquerque Metro Championships.  Herrera struck out nine batters in the six-inning game.
"Dayna threw a gem," said Volcano Vista head coach Desi Garcia.  "It was a solid performance and her rise ball was dominating."
Herrera, a junior, also had a 3 RBI double in the 6th to end the game by 10-run rule. Volcano Vista is now 9-0 on the season.  The Hawks have posted seven shutouts and outscored the competition 126-17. Volcano Vista will face Rio Rancho in the semifinals on Friday at 4pm.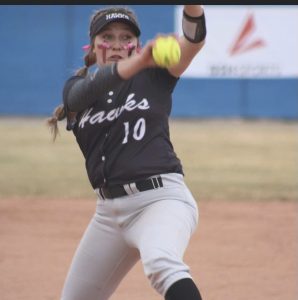 *photo courtesy Desi Herrera