ST. MICHAEL'S STANDOUT ATHLETE WON'T LET DIAGNOSIS DEFINE HIM
You wouldn't know it by watching practice at St. Michael's, but one of these basketball players was diagnosed with a life-changing condition.
It started last baseball season.  Derek Martinez, a junior at the time who played varsity baseball since the 8th grade, started to notice something was wrong. The star pitcher was losing his control and that wasn't him. "He knew something was wrong," said his mother Denice Torres.  "He started to get a tingling on the outside of his pinky and over the weeks it started to progress from one finger to the next to the next, until it was his entire hand."
Derek went to a pediatrician, chiropractor, and even neurologist, numerous tests and MRIs revealed lesions in his brain and spine.  Then came the diagnosis.  Derek had multiple sclerosis, a degenerative neurological disease. "If there's anyone who can get through this, it's him," said his mother with tears in her eyes.  "He's got such a great attitude and not letting this stop him."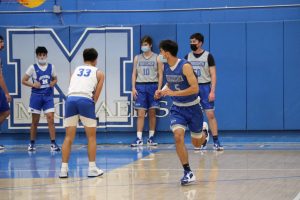 "He's given everything he can to the program, and it was heart-breaking," said St. Michael's basketball coach David Rodriguez upon hearing the diagnosis.  "He's such a great-athlete.  He moves like a cat and jumps out of the gym, he has great instincts and some of that was taken away."
"At the beginning it was tough for me to tie my shoes, button my pants, eat with a fork, simple things like that," said Derek.
MS is an unpredictable disease.  Derek deals with numbness, tingling, pain, fatigue, even a simple task like writing his name can be challenging, and symptoms can be temporary or long lasting. "The doctors, when they told us it was MS that 20 years ago he would have been in a wheelchair and that was scary to hear that," said his dad Chris Martinez.  "When they said that with today's technology, the medication, the treatment and everything, that he can live a normal life."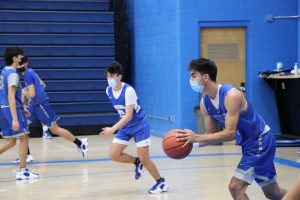 Derek wasn't going to let this diagnosis define him. Strong and determined, the multi-sport athlete decide to continue to compete, but initially it was an adjustment. "I get frustrated in myself," said Derek. "My standards, I set those pretty high."
"We don't know exactly how long he can go, two minutes or three minutes (at a time)," said his coach.  "Now that he's gotten in shape, he can go longer, but if he goes too long he will overheat and he'll get numbness in his legs and we're trying to avoid that."
"I had to take a step back, knowing my diagnosis and condition, everything that's going on.  I just have to keep reminding myself, this is more than I can ask of myself."
But don't mistake his self-assessment as a surrender to his dream of competing.  He plans to be back on the baseball diamond this spring. "I'll be dealing with it for the rest of my life," said Derek.  "My fatigue and everything can get better, I can get sensation in my hand, it can all get better.  I can have no symptoms, it can never happen, it's up in the air.  That's one of the things with MS, you don't really know."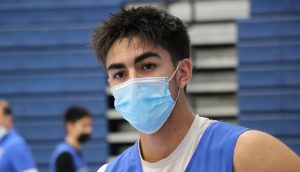 While there is no cure for MS, his family believes the best course of action is encouragement and support.  "I wish I could put him in a box and put him away where it's safe, but encouraging him when he needs it, reassuring him when he needs it," said Denice.  "He is determined to not give up on his dreams and he is still pushing forward."
"He amazes me," said his father Chris.  "He's a go getter and I don't think it's going to slow him down.  He's going to continue to strive."
"Regardless of what someone has going on in their life, if you really put your mind to something, you can do it."
"It's a lifelong thing, and that's the heartbreaking part of it, but if anyone can handle this it's Derek," added coach David Rodriguez.  "He's an example to every student athlete in the state because of his toughness."
Derek Martinez is determined to show others that a life with MS is possible.