A COMPETE WITH CLASS MOMENT INVOLVING RIVAL TEAMS
The Northern New Mexico basketball community suffered a tragic loss earlier this month.  Mesa Vista girls basketball coach Leonard Torrez and his father, assistant Leonardo Torrez, died within a day of each other due to complications from COVID-19.
Prior to a recent game between Mesa Vista and Escalante, the Trojans were honored by their rival.  The Escalante Lobos presented the Torrez family and Trojans' program with TorrezStrong basketballs, photos, signs, a cross, flowers and gifts showing their respect to the community.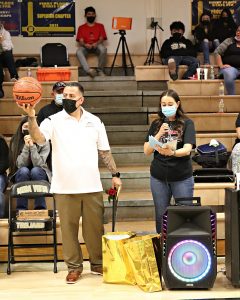 The act of kindness by the Escalante program was seen as an ultimate Compete with Class moment. "The Escalante Lobos' heartwarming presentation touched so many people," said Mesa Vista Consolidated Schools Board of Education President Anthony Xavier Vigil. "In the wake of adversity, they district demonstrated integrity, compassion, and poise.  They bring true meaning to the term 'compete with class'," he added.
"There are not any words that would truly express my appreciation for the Escalante Lobos. I wish the Lobos all the best with the rest of their season," said Vigil.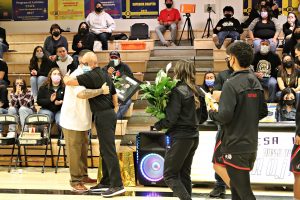 "I am proud of our school board, administration, coaches, student-athletes and the entire Chama Valley for their display of compassion," said Chama Valley Superintendent Anthony Casados.  "I can't begin to comprehend the loss experienced by the Torrez family, the Mesa Vista School District and their entire community.  Their loss is our loss.  My prayers are with all who were affected by this tragedy."
Ben Sandoval of NMOT Sports was at the Escalante-Mesa Vista game that night and recalls a conversation he had with Escalante boys basketball coach Isaac Roysten.  "As Coach Royston and I spoke, he said something that stood out for me," Sandoval posted on social media.  "He said, 'We may be rivals, but before anything, we are family.'  Let's always remember to hug each other and love one another, even in the heat of battle, as we may never know if that is the last time we may see each other. May Coach Leonard and Leo Torrez forever be remembered."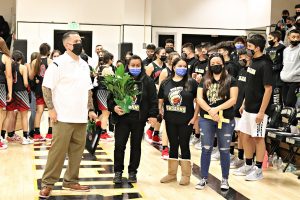 *photos courtesy Ben Sandoval/YMCA Teen Center Director and Coach