GALLUP GIRLS PUTTING TOGETHER ANOTHER SOLID SEASON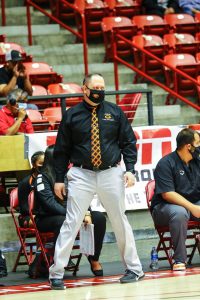 In his 5th year at Gallup, head coach Todd McBroom has the Lady Bengals firmly atop of the Class 4A girls basketball world. "I thought we would put up a lot of wins this year with everyone we return," said McBroom.
Gallup is the Class 4A defending state champ and look like one of the favorites to win another with seven seniors on this year's roster.  Gallup beat Espanola Valley in the final last season, 63-51.   "Usually, senior heavy teams are the ones lifting the blue trophy at the end, but we won it all with a junior heavy roster last season," said McBroom. "In Gallup history, we have six state championships, but none of them are back-to-back.  Every class might think they are the best, but I told our team that if they want to be known as the best in Gallup, put together back-to-back titles and there's nothing they can say."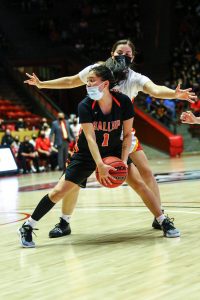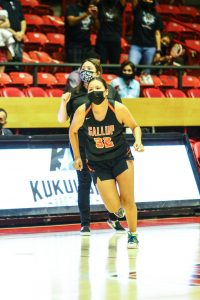 Gallup has 11 players back from last year's state championship squad, including all four players who made all-state last season. Gallup has a good mixture of inside-out players, with guards Trinity Juan and Michaela Mccurtain (13.3 ppg) and inside post players Hailey Long (14.8 ppg & 9.2 rpg) and Jordan Joe (Joe has missed most of the season with an injury, but hopes to return in the coming weeks).  "We've also added some good pieces," said McBroom.  "We have a freshman over 6-feet tall who comes off the bench (Rylie Whitehair)."
Like many other teams in the state, McBroom has an ever-changing lineup because of COVID.  "We've probably played at full strength a total of five games this year," he said.  "I started the year with kids out because of COVID, and we lost Jordan Joe for several games. At one point this year, I only had four varsity kids in practice, but I wasn't going to cancel games."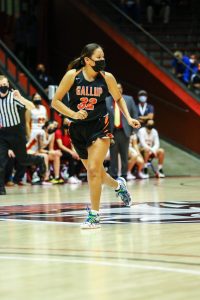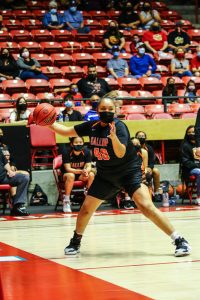 This week, Gallup is on top of the MaxPreps polls, ahead of other contenders Kirtland Central, unbeaten Bernalillo, and Portales. "I think we match up well with some of those teams, but I think other teams have a difficult time matching up with us," said McBroom.  "In my opinion, we have the best posts in the state and then we have guards that can knock down shots and put pressure on people."
Gallup suffered just their second loss of the season earlier this week, falling to district rival Kirtland Central 50-45.  "I told the girls, we lost our 12 game win streak and we have 12 games left," he said.  "I said, 'If we put another 12 games together, we'll get a playoff game with Kirtland and that will decide the district.'  That's what we're planning on doing."
Gallup is currently 12-2 overall with a home game against Miyamura Friday night.