"Swimming is all about consistency" – Jamin Harlan, Cibola High School
Meet Jamin Harlan. He's a senior at Cibola High School and he's one of the top swimmers in the state.
"Me and my brothers used to be runners and then all of us had foot problems," Jamin explained.  "My aunt had her children on a swim team and thought it would be a good idea to get us into swimming since we weren't running anymore.  That was about when I was four years old, and I've been doing it ever since."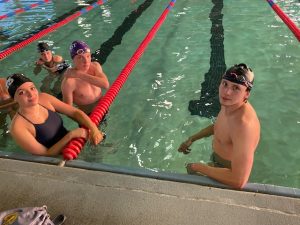 "It helps you with your personal growth, it makes you push to your limits and overall, it develops character within you for the rest of your life because swimming is a sport like no other," Jamin said.
Jamin is the two-time defending state champ in the 200-meter freestyle and he also won the 100 meter backstroke event last season too. "About when I was 12-years old, that's when I was getting up into the higher levels of competition," he said.  "My brother was recruited to Wyoming university to swim for them and that's when I knew it was something I could do," he said.
Jamin recently committed to swim for West Virginia, a school his family is familiar with. "I have two brothers and we used to train against each other all the time," he said.  "My oldest brother is kind of retired from swimming and my middle brother is in West Virginia right now, he's a senior, so this will be his last year.  When we were all swimming together it was very competitive, and we love pushing each other."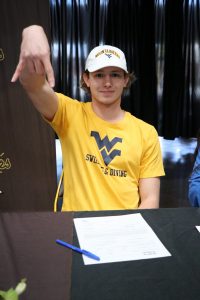 Jamin is shooting for the state record in the 200 free this season. "Every practice you have to be as present as possible because swimming is all about consistency," he said.  "It's all about how you push off the wall, every stroke you take, every flip turn you do, every breath you take, it's all about consistency.  What we've been working on is building up the endurance, making sure I can take the load my legs need to, to finish a race."
"When they ask you to get on the blocks, from the time you get on the blocks to get in the water, it's about five seconds, but in your head it feels like 20 seconds," he described.  "You feel like all you've been working for leads up to that point, so whatever you've done in the past will show in that race.  As long as you've been training hard and working hard, the results should be there."
He hopes the results are there at the state meet in February.