RIO RANCHO BOYS SOCCER STRIVING FOR ANOTHER BLUE TROPHY
Last season the Rio Rancho boys soccer team won the state championship for the first time ever. "First one for the program, long time in coming, it was something we could be proud of and you could never do the first one again," said head coach John Shepard.
Now that they've tasted success, the Rams would like a second helping. "It set a standard for everyone that comes to this program," said senior Tyler Russell.  "If we're going to win state, we have to do that again and try and achieve the same standards."
"It's a different feeling being one of the teams to beat now, it's a little more pressure, but I like it," said senior Evan Spell.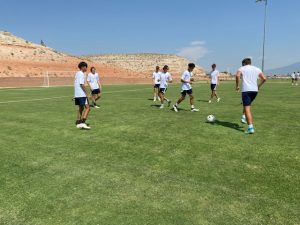 The Rams return a majority of last year's championship squad with a roster of a dozen seniors.  They hope winning can snowball into more victories. "Success does breed success and, unfortunately, failure can breed failure," said Shepard.  "We've been fortunate, in the past, to have some good successes, a lot of third place finishes and always in competition for the state playoff spots, so I feel like our success finally bred enough success and it all culminated in last year's state championship and we hope it breeds some more success."
For boys soccer, it's been 10 years since we've seen a back-to-back state champ in the state's largest classification.  Winning it two years in a row is not easy. "You can see it at any sport at any level," explained Shepard.  "In the NFL, the team that wins the Super Bowl, how often do they win the Super Bowl the next year? It's not that common, it takes those dynasties, those special teams.  I wish there was a secret formula."
A big part of Shepard's recipe for success includes competing with class. "Our number one rule for the program is respect," said senior Grant Moen.  "We respect our coaches, we respect our equipment, we respect the players, the refs, all of the above."
"We concentrate on building character, we concentrate on always maintaining our values and our integrity, and that will lead to more success," said the veteran head coach.  "I always believe we are doing things the right way for the right reasons, it's just nice to get that confirmed.  I have a set of beliefs I think are important about integrity and sportsmanship and doing things the right way and I'm glad that can also be rewarded with winning."
The road to another blue trophy won't be easy, but the Rams are charging in the right direction.