"IT'S GOTTEN SO MUCH BETTER"-MARTELL MORA, SANTA FE HIGH SCHOOL RUNNING BACK
The Santa Fe High School football program had some down decades. "It's been some rough years," said senior quarterback Luc Jaramillo.
The Demons have only had a winning season twice in the last 34 years, but this program is turning the corner with a couple big point totals on the 2021 resume. "It feels a lot better that the culture has changed since we were freshmen," added Jaramillo.
"As long as I've been here we've been struggling with it," said senior running back Martell Mora.  "It's gotten so much better.  Everyone is growing and maturing and that comes along with it."
"It's been hard because when you first come in you don't have a lot of upper classmen who want to come play football because the program was in a tough position for a long time, so we have to start with young guys," said head coach Andrew Martinez.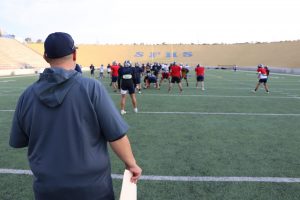 The Demons are finding out winning is contagious. "We're not losing anymore and that's the goal, to be 1-0 every day," said Jaramillo.
"We've been more of a 'we over me' type of team this year," said senior receiver Isaiah Madril.  "It's been more of a family than just teammates.  At the end of the day, we feel like family.  These are our brothers."
"We talk about winning the day and there's a lot of aspects to that, it's not just a phrase," explained Martinez.  "It's about being positive in the lockerroom and keeping all the negative stuff out of the lockeroom.  It's about doing things right in the classroom and out of the classroom.  It's about bringing in freshmen and sophomores to the fold and making sure they're welcome and they know they are part of this program, and whether they are playing C-team, JV or varsity, everything is about doing things right and if something negative is happening in your life, going back, re-evaluating it and thinking about the positive stuff.  That's what we talk about every day."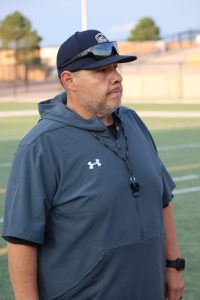 Senior running back Martell Mora has established himself as one of the top work-horse running backs in the state. "I'm just doing whatever I can, I can't do anything without my team," said Mora.  "It might look like it's just me, but it's not just me.  The blocks are there, the holes are wide open, I can't do anything without them.  I know if I do everything for them, they will do everything for me."
"I can't ask for a better leader than Martell Mora," said Martinez.  "He's really good with his family and takes care of his younger brothers.  He's the whole package."
The goal isn't just to post a winning record for the first time since 1998, head coach Andrew Martinez is thinking bigger. "We want to win a district championship," said the head coach.  "We feel like we can compete and then get in the playoffs.  It would be big for us to be in the playoffs at the 6A level and that's where we want to be."
The last time the Demons made the postseason was 2013.