NEW MEXICO MOCK TRIAL TEAM PLACES 3RD AT NATIONALS
Another New Mexico High School program is making a mark on the national map.  Earlier this year, the Gene Franchini New Mexico High School Mock Trial Team placed third in a 46-team national competition.
"When we were watching the awards ceremony and they announced New Mexico was third place, the team was ecstatic," said Center for Civic Values Executive Director Kristen Leeds.
"There was a lot of screaming, we were very excited," said mock trial team member Rosa Bieber-Stanley.
For those not familiar with the activity, mock trial is a hands-on experience in the law for high school students.  Teens work with the teacher advisors and attorney coaches, research, study and prepare a hypothetical courtroom trial involving issues that are important and interesting to young people. "It's kind of a sport where you learn how to use your voice, learning how to speak persuasively is my favorite part," Rosa said.
The national event was held virtually from May 13-15.  "The competition involves one national case, and they do the case for all the rounds," explained Leeds. "It just depends on whether you are given the prosecution or the defense.  We did each side of the case twice."
The team from New Mexico won four trials against teams from New Hampshire, North Carolina, Idaho and Washington.  "We fell one scoring judge ballot short of competing in the championship round," said Leeds.
Team New Mexico included Albuquerque Academy students Rosa Bieber-Stanley, Roman Martinez, Megan Blackwell, Noah Vigil, Daniel Shapiro, Reeya Patel, Marly Fisher, Mason Porch (courtroom artist) and teacher coaches Joaquin Sanchez and Clint Ewell.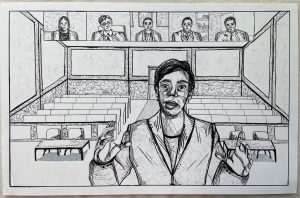 "I think we have a great program," Rosa said. "Our coach, Joaquin, participated in mock trial when he was a student and then came back to coach.  He spends an enormous amount of time and energy with the students to make us be the best we can be, he is the heart of the program."
Blackwell received an outstanding witness award, and courtroom artist Mason Porch from La Cueva High School placed fourth.  Courtroom journalist Caribbe Jaime from Onate High School (winner of the state courtroom journalist competition) also participated.
New Mexico has won the national competition twice in previous years (2012, 2013).