THE MAT IS A QUIET PLACE FOR SOCORRO'S AYDEN LEWIS
One wrestler went through the 2021 State Wrestling Championships without much noise. In fact, Socorro's Ayden Lewis made it to the state final without any sound at all. Lewis is deaf.
"I lost my hearing when I was five," Ayden said. "It's a genetic condition that took a while to develop. My dad has a slight hearing impairment, and my brother Carl was born deaf."
When he's not wrestling, Ayden can hear with the use of hearing aids. However, the hearing aids don't fit comfortably with head gear, so when he wrestles, he does so in complete silence. While other wrestlers feed off the sound of the crowd, Lewis doesn't get that benefit.
"I have no idea what that's like to wrestle with the fans cheering," he said. "I don't know what it's like to feed off the energy of the stands. I try to focus only on what's happening on the mat."
Instead of a coach yelling out signals from the corner of the mat, his coach pounds the ground to get his wrestler's attention. "I can't hear him at all, but I can feel when he hits the mat," Ayden explained. "Every time he's trying to get my attention, he slaps the mat. At first, it was difficult not being able to know what the coaches wanted me to do, but they fixed it right away with signs for the moves."
Ayden first started wrestling as a freshman in high school. "It's actually a really cool story," he said. "James McNeil, one of the coaches, owns a barber shop and I went to get a haircut. Sometimes you vent to the barber, and I complained that I was getting bullied at school and having problems. He suggested I join the wrestling team, so I did."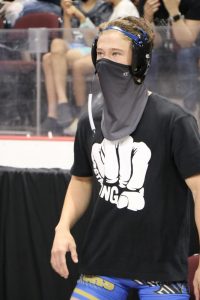 When Ayden first walked into the wrestling room, it was clear that there wasn't going to be any special treatment despite the fact he can't hear. "I never treated him any different," said Socorro wrestling coach Joel Partridge. "We practice without hearing aids. We never call it a disability. There was never a day when he was frustrated because he couldn't hear. There's a wipe board on the wall where I write down instructions. I started that because of Ayden. He reads lips and set a tone that we were serious about this. He had a goal and wanted to be good at something."
As it turns out, Ayden became very good in a short amount of time. He placed at state as a junior and reached the finals as a senior, finishing 2nd in 2021. His coach describes him as "aggressive and determined."
While a lack of hearing might be a huge obstacle for some, his coach says Ayden makes up for it in other areas. "Ayden is the first one to get on the line and get ready for practice because he's paying attention to body language," said Partridge. "He developed much faster as a wrestler because he forced himself to learn it. He's unique and driven. His fight and drive will get him far in life."
Ayden wants to continue with wrestling at the next level and maybe someday become a coach. He plans to attend Embry-Riddle Aeronautical University in Florida and walk on with the wrestling program. Looking back on his high school wrestling experience, Ayden says he has no regrets. "All I can say is I did everything I could and gave it everything I had."