HALL OF FAME BASKETBALL COACH MIKE BROWN PASSED AWAY
*photo courtesy New Mexico Sports Hall of Fame
Hall of Fame basketball coach Mike Brown passed away early Wednesday morning.   Brown was battling a rare form of Parkinson's Disease called Multiple System Atrophy (MSA).
"The New Mexico Activities Association sends out our thoughts and prayers to the Brown family on their loss," said NMAA Executive Director Sally Marquez. "Mike Brown was an educator who left a lasting impact on the Albuquerque Academy community and the state of Mew Mexico."
Mike Brown coached for 26 years at Albuquerque Academy and led the Chargers to 20 championship appearances and won six consecutive state titles from 1989-1994.  Brown's Albuquerque Academy program played in nine straight title games, losing in the final in 1995, 1996 and 1997.  Brown led the Albuquerque Academy Chargers for 26 seasons (starting in 1984-85), racking up an overall record of  432-263.
"Coach Mike Brown had a monumental impact on our community beyond the game of basketball," said former Albuquerque Academy student-athlete Notah Begay. "As a school teacher, mentor, father and coach he had a unique way to communicate and connect with people that inspired performance, motivation and focus. Coach made a difference in my life as he did in the lives of so many others. He will be missed but forever loved and celebrated."
"Coach was not only an amazing coach, but also a better husband, father and human being," said longtime coach and friend Joe Coleman. "Everything  I've been fortunate to have accomplished or achieved in my life had been a direct result of the opportunities and lessons he gave and taught me. I feel humbled and honored to have been a part of the many coaches and people he influenced in his life.  I will forever be indebted to not only Coach, but also his entire family (Carol, Shaun, Greg and Danny) I love them all so very much."
"Coach Brown (Papa) is not only one of the greatest coaches in the State of NM, but he was a great family man," said Volcano Vista basketball coach Lisa Villareal. "The impact he has had is very evident in the Brown family as they all strive to be winners and champions. He will be missed, and remembered in our Volcano Vista basketball community."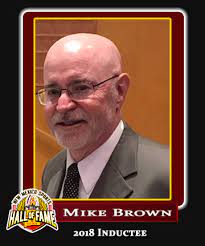 Brown was a 2018 New Mexico Sports Hall of Fame inductee.  Brown was twice named Coach of the Year by New Mexico High School Coaches Association and was named to its Hall of Honor in 2006.  This fall he will be inducted into the first-ever Hall of Fame athletics class at Albuquerque Academy.