LEGENDS OF THE GAME: KARYN KARLIN, KIRTLAND CENTRAL HIGH SCHOOL
During her playing days, Karyn Karlin could not be stopped on the basketball court.  The Kirtland Central standout is one of the top basketball talents to ever come out of New Mexico.  She is one of just four girls to ever score more than 3,000 points during her high school career (3,079 points).  Karlin led Kirtland Central to four straight state titles from her freshman to senior year, capping off her career with an undefeated season in 1996.
Karyn started playing basketball at a young age.  "My dad was a coach and I remember playing at the old Grace B. Wilson Elementary School," she recalled.  "It was a tile floor, dusty gym and I would always slip," Karyn joked.  "I remember a specific time when I was 9 years old and practicing.  I told myself, 'I am going to be one of the best players in the league.'  I took that seriously.  I doubt I was the best player that year, but I spent more time practicing and practicing.  My dad knew a lot about basketball and coached me for hours and hours.  We worked on my jump shot, conditioning and rebounding, that was a huge part of my success."
Eventually, Karyn did become not only one of the best players in the league, but in the entire state.  She would accumulate boxes of recruiting letters along the way.  She found herself in the Final Four and playing professionally overseas.  She now resides in Farmington, New Mexico, just 15 minutes away from her childhood home.
We recently had a chance to catch up with Karlin, now known by her married name Karyn Austin, and reflect on her memorable career.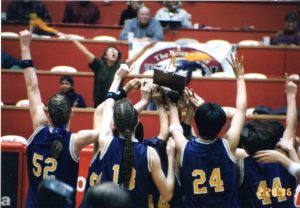 What do you remember most about your high school basketball career?
Kirtland basketball was epic, that's how I would describe it. It was larger than life, the team bonding, the fans were amazing.  Every time we get together for a reunion, we have a great time and great memories.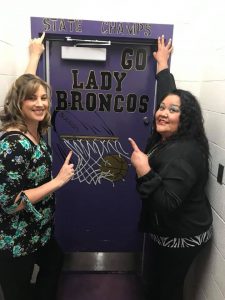 Kirtland basketball was also known for those classic battles with Shiprock.  What stands out to you the most about those matchups?
I remember being so nervous and so pumped up at the same time. I lived for those games. Those games were what I was made for. The gym was always packed for those games, standing room only. The adrenaline was so high the whole time.  I loved those games because you knew it was going to be crazy. There were a few rivalries between players, too; some wild elbows, some players would get rowdy, an occasional cat fight. I loved that intensity.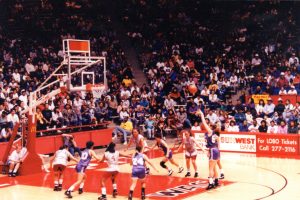 Who was your personal rival?
I always had to guard Kelly Clark, the Shiprock post player.  She was good shooter and really good player. We had our battles. Tasha Begay and Adriane Goodluck would battle and even suffer a black eye. They're good friends now, but they had it out.
When you were in the middle of your senior season, was there pressure to finish your final season undefeated?
Oh yeah, there's always pressure at Kirtland. Anytime you're trying to continue to get better, there's pressure.  You want your team to take home the blue trophy. I think the fact I signed early took some pressure off.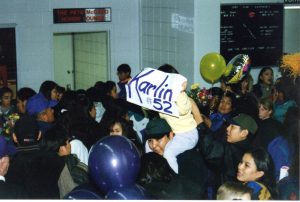 What was the recruiting process like?
It was pretty exciting for a high school kid.  I received probably hundreds of letters from schools that were interested.  Back then, you could have as many home visits as you wanted.  We had 15 scheduled, but after ten we cancelled the last five because we kind of had it narrowed down to where we were looking. We took five visits.  I took an early visit to Duke, they offered me there, but I wasn't ready to commit so I decided not to take that offer.  We also visited Texas, Texas Tech, Louisiana Tech and Arkansas.  I was definitely torn. My mom really liked Louisiana Tech and made friends with their coach, but Arkansas was the total package I wass looking for.  I loved the campus and wanted to play in the SEC.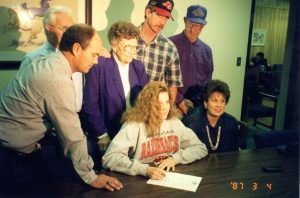 How was your college basketball experience at Arkansas?
It was a good experience.  The thing that made it the best was the people at the school. I loved the campus and the area, it was a great experience. We went to the Final Four my sophomore year, that was pretty exciting.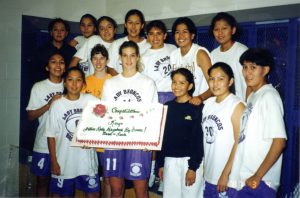 What was it like reaching the Final Four as a 9-seed in 1998?
It was a Cinderella season, we came together at the right time.  It was crazy!  We stayed in the Bay Area in northern California and did some sight-seeing in between games.  We were getting letters and cards at the hotel.  Everyone was so supportive.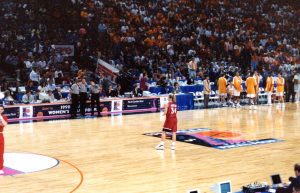 After college, you decided to play basketball overseas.  Where did you play?
First, I played one season with Athletes in Action, it's a ministry of former college players who play exhibition games against college teams.  It was a really great experience. After that, I went to Finland to play.  A few months later, I finished off the season in France.  It was a great time, one of the best times of my life, getting to travel all over Europe.  After France, I returned to the States and went to play in a semi-pro league in Birmingham.  From there, I got an invite to the WNBA Miami Sol training camp.  I stayed on South Beach for a couple months while I trained. It looked like I might make the team, but then I suffered another knee injury, had surgery, and decided to put my playing shoes up.
Did you ever think about coaching?
When I was in Miami, I got a call from the Liberty University coach, I didn't even know him.  He asked me if I wanted to come help out his program. I went there for a year.  College coaching is no joke.  You have to recruit, practice, train, do film work, it's very time consuming.  I went from playing and training overseas professionally to jumping into coaching and I reached a little bit of a burnout.  I needed a break from basketball.
Have you ever thought about coaching high school basketball?
I really have thought about it a lot.  That's always been in the back of my mind and something I would like to do. I see myself more as an assistant. All the assistants I've had have been an integral part of my time as a player. I think I would be better at that, developing individual players skills.  I've been asked, but I wasn't ready just yet.  I homeschool my kids, so I would try to figure out a way to do both.  I would like to at some point, maybe when my little ones get a little older.
Ultimately, how do you look back on your basketball playing career?
I look back on it as one of the best times of my life!